If you're a B2B industrial marketer struggling to get traditional marketing tactics to produce a return for your manufacturing business, then a blog may be part of the answer.
With more and more of the buying process taking place online, a blog is quickly turing into an asset that B2B marketers can't live without.
We wanted to take some time to highlight a few companies that are on the right track when it comes to Manufacturing Blogs. There are some great take aways from what they are doing and also some good nuggets from what they aren't doing just yet.
Specialty Design
From their website: "Specialty Design is a family-owned and operated provider of aluminum building products for the home construction industry, and a full-service contract manufacturer, special machine builder and machine shop."
Specialty Design does a great job of using their blog to highlight other companies that are doing good things in the community, sharing valuable resources, and information to help potential copper gutter buyers make an educated decision.
One area that Jason and the Speciality Design team could tweak to see improved results is to add calls to action to top of the funnel offers. At the bottom of some of his posts, Jason shares their product page and phone number, but there are some readers who won't be ready to speak with a representative.
For these folks it is good to offer some sort of educational offer that they can download and use in their research process. You can then follow up with them to share more information and help them make the best educated decision.
Check out their blog here!
Indium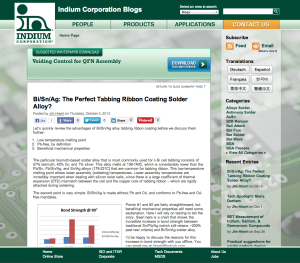 From their website: "Indium Corporation develops and manufactures materials used primarily in the electronics assembly industry." Indium shares a crazy amount of information through their blog ranging from solder preform design to personal reflections on working at the company. Rick Short is Indium's Marketing Communications Director and the chief corporate blogging strategist. He manages 73 blogs written by 14 in-house bloggers, all engineers.
They also offer white papers on a wide variety of subjects. Better yet, they are behind forms on landing pages. One thing they could do better would be to link to their white papers with calls to action at the end of their blog posts.
Check out their blog here!
Baileigh Industrial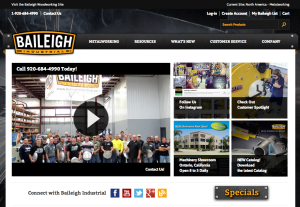 From their website: "Baileigh Industrial® was founded in 1999 with the core principles of providing the highest quality industrial metalworking and woodworking machinery backed by unsurpassed after sale support. Since our humble beginnings we have grown into becoming one of the most respected suppliers of metal forming, chip removal, welding, cutting, sheet metal, and fabrication equipment, as well as contractor grade and industrial cabinet making woodworking equipment."
Baileigh uses their blog to share customer success stories, application pictures, and review that their customers will find helpful. They have done a great job at creating an online hub of information right on their website.
This blog probably does a great job at bring traffic from search engines and social media sites, but it falls short on lead generation.
It isn't for lack of resources, on their resources page they have a great collection of well designed guides and brochures. Since these are not behind a landing page, there is no way for the team at Baileigh to know if someone is looking at one and no way for them to reach out to follow up.
By taking these resources and placing them behind a landing page with a form, Baileigh can start generating leads from the visits that their blog is generating.
Check out their blog here!
GAM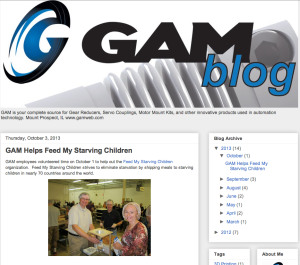 From their website: "GAM is a leading provider of precision mechanical motion control components used in the automation of machinery. GAM has a broad product range of gear reducers, servo couplings, safety couplings, and motor mount kits. GAM's mission is to give customers what they want and be able to do it even in small quantities and at a value to the customer."
GAM does a good job of telling their story through their blog, but they have missed one critical component. It isn't hosted on their domain.
While they are seeing the PR impacts from the blog, they're missing the SEO and lead generation opportunities that come with hosting a blog on your own domain.
Check out their blog here.
FireRock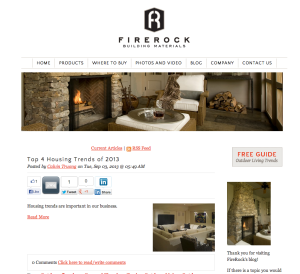 From their website: "FireRock is the leading provider of timeless, authentic building materials, including fireplaces, wood flooring and pavers with an expanding line of products.
Each product we offer is reviewed and approved by a renowned group of the nation's leading architects. Our materials come from some of America's best suppliers or are produced by artisans based in Birmingham, Alabama."
FireRock uses their blog to share content that is relevant to their buyer personas and to highlight their customer case studies. Their clean design allows for a pleasant reading experience. They do a great job of using images to showcase their product and engage their readers with an element of visual content.
Like Indium, FireRock could start adding calls to action to the bottom of their blog posts. It is always important to give readers a clear next step to help them find additional information.
Conclusion
Companies in all kinds of industries, creating all kinds of stuff are using blogs with success. Why don't you give it a shot?
If you're looking to take your marketing to the next level and begin the process of building a lead generation machine on your site, check out the checklist bellow. Inside you will find actionable information that you can apply today to your marketing strategy.