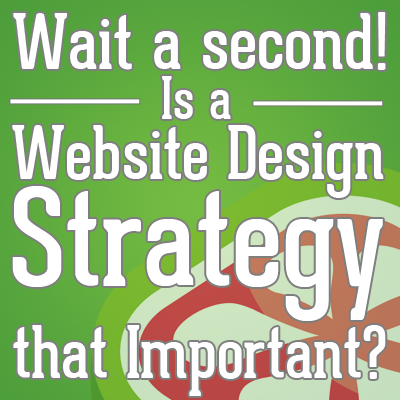 You're darn right it is important! Would you start building a submarine without a blueprint? Would you start playing rugby before knowing the rules of the game? Would you set out on a treasure hunt in the jungle without Black Beard's map? Didn't think so.
Sadly, many businesses waste tens of thousands of dollars every year on website redesign projects. They want the latest and greatest design, but forgot to think about the fundamentals.
Before taking any action on a new website, whether hiring a website designer or writing code, it is pivotal to have a crystal clear picture of the website's mission. A smart web design strategy starts by laying out all of the necessary information before a designer gets designing and a copy writer gets writing.
What Determines Success?
When two football teams step onto the gridiron, they know exactly what needs to be done. They know that they need to do whatever it takes to get the ball into the endzone. To launch a successful website, you need to know your goal. To answer this we look at three key metrics.
Amount of Qualified Traffic
The amount of visitors that come to a website each month isn't going to define success. Companies that are winning with online marketing are drawing qualified traffic. Inbound marketing tactics are both the best tools and smartest investment you can make to attract qualified traffic to your website.
Utilizing social media communities is a great channel to draw this kind of qualified traffic to your website. If someone decides to follow your brand on Twitter, there is a good chance that they are going to be the type of person you want to visit your website.
Building a strong following on Twitter and Facebook can take a lot of time. If you're not there yet, tap into LinkedIn groups. These groups are pre-built and pre-qualified. Identify the groups where people who fit your buyer personas are gathering and start sharing content with them. Even listen to questions posed in the groups and write a blog post with an answer.
As you build a website design strategy, identify the persona of your ideal potential buyer. Then design the site to meet their needs and write content that eases their pain. Now that you have a qualified visitor, you need to start converting them to leads.
Traffic-to-Lead Ratio
(Warning: I'm about to get a little geeky on you.)
The traffic-to-lead ratio defines what percentage of website visitors have opted to take a specific and desired action and, in doing so, became a lead. This could be simply downloading an eBook. Defining success against this ratio is an important part of building the website strategy.
Setting a traffic-to-lead goal defines the amount of qualified traffic each week needed to meet the needed number of leads. Lets look at an example:
Let's just say that your website has a targeted traffic-to-lead ratio of 50:1. Out of 100 website visitors, we want to convert two of them into leads. If we need to generate 50 leads per month to hit our revenue goals, then we know that we need at least 2,500 website visitors.
Lead-to-Sale Ratio
Understanding the lead-to-sale ratio helps determine how much traffic and how many leads need to be generated through the website before a redesign becomes profitable. With marketing software like Hubspot, you can track a lead from the first time they visit your website to the point when they become a loyal customer. Knowing how long it will take for a website redesign project to produce a return on the investment could be critical when securing the funding for the project.
Let's say a new customer is worth $3,000 to your company and the website cost $20,000. Then we know that we need to close at least seven sales from website-generated-leads before the website becomes profitable.
Let's also say that your sales team is on fire. Now that they are spending less time cold calling and more time working with leads that have been qualified through the website, they brought their lead-to-sale ratio up to 10:6. Oh boy, is this exciting!
Breaking down all the numbers show us that you need to generate 600 visitors, convert 12 to leads, and close 7 sales before the website becomes profitable.
Conclusion
Defining what success means and how to generate success in each of these three variables will put you in a great position to start writing copy and hiring website designers.
As in most areas of life, beginning with the end in mind brings a new level of clarity to the present.
Thinking about redesigning your website? Get started the smart way by downloading our website design strategy checklist. This list will get you thinking in the right direction and put your website on track for success before it is even off the ground!