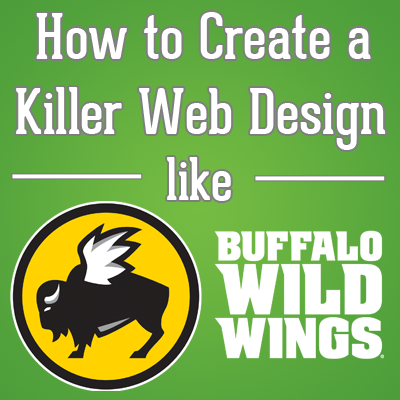 There is nothing more frustrating to a football fan than missing their favorite team play on Sunday. This happened to me a few weeks ago and I frantically went to the web in search of a destination that would show the game.
When I arrived on the Buffalo Wild Wings website, I was relieved as a sports fan and inspired as a web designer.
Buffalo Wild Wings does a lot of really cool things on their website that provide a great user experience. Overall, the site is very simple and focused on answering questions that visitors may have. There are a lot of lessons that businesses can learn from the way they have set up their website design. Here are some areas that stuck out to me.
Clear Navigation Bar
When visitors land on a website, they make a quick decision (less than three seconds) to leave (bounce) or stay and keep viewing. In three seconds you have to answer the question they are trying to solve. Buffalo Wild Wings hits the top pain point in their navigation bar.

What are some possible questions that visitors to the Buffalo Wild Wings site may be trying to answer?
What games are they showing?
What types of beer do they have on tap?
What kinds of things are on their menu?
How many flavors of wings do they offer?
Are they running any deals?
Do they show UFC fights?
Do they have gluten free options?
By keeping their navigation menu simple, Buffalo Wild Wings has helped their visitor quickly answer the questions they need answered. Providing broad options in a clear way helps visitors drill down to address their unique pain point.
Context for Each Visitor
Another common question that visitors to a restaurant website are looking to answer is location. How far am I from the closest Buffalo Wild Wings? B-Dubs answers this on the right side of the menu for each visitor.

It is important to provide relevant content for every person who visits your website, but it is also important to deliver this content within the proper context. Buffalo Wild Wings pulled my location and customized the homepage experience for me. They know that I'm in Charlottesville, VA, and have automatically showed me how to connect with the closest restaurant. They clearly provide the address, phone number, and a link to get directions from my current location.
Right under the customized context option, they let me search out a location by zip. Maybe I don't want to visit a location near me, but rather I'm planning for a weekend trip and need to make sure there is a place to catch the game. They have positioned that solution for visitors as well.
Clear CTA to Join Email List
B-Dubs has a cult following. Folks all over the county love their wings and atmosphere. To capture this enthusiasm, Buffalo Wild Wings created an email club called the Buffalo Circle. They do a great job of displaying the value that you will receive by signing up for this list.
By converting website traffic to their email list, Buffalo Wild Wings is able to continually engage their core followers with targeted email offers. Providing clear value to the visitor is the best way to convert traffic to leads on a website.
People love to feel like they are getting the inside scoop. By offering exclusive deals, Buffalo Wild Wings is able to capture the value of a website visitor and market to them over time with tailored messages that their audience will look forward to receiving.
Responsive Web Design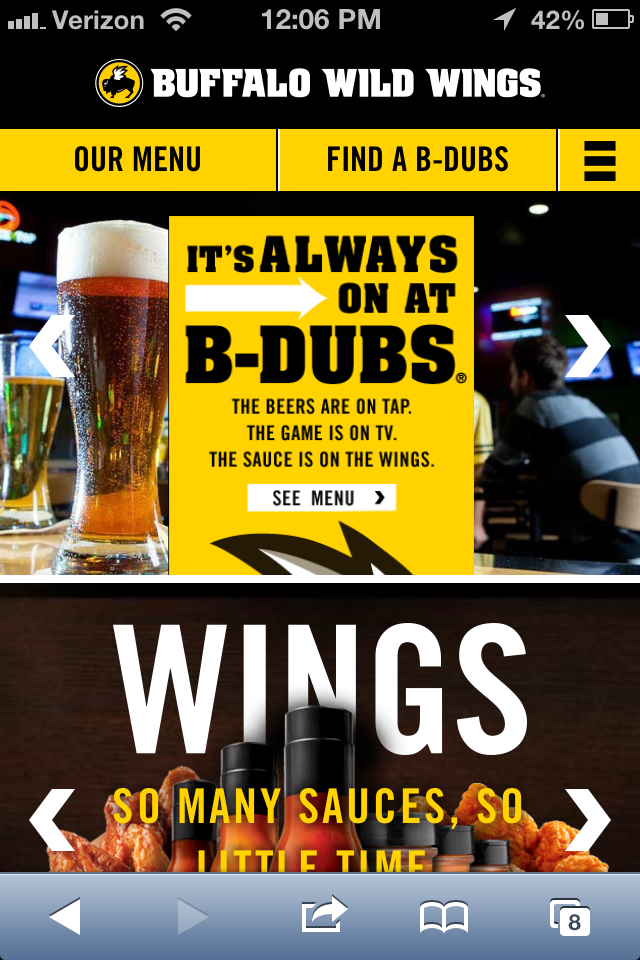 Every website, regardless of industry, needs to be ready for mobile and tablet visitors. This can be done by building a website that automatically adjusts to the size of the screen that people are viewing.
Buffalo Wild Wings makes their website responsive, and they customize their navigation menu options when they know that someone is viewing the site from a mobile device.
This is another way the the folks at Buffalo Wild Wings are customizing the context of the website experience to fit the visitor. On a mobile browser, there is less room to display options. You have to be strategic when thinking about what options to make available to mobile visitors and Buffalo Wild Wings does a great job.
If I'm visiting their site from my iPhone, there is a good chance that I'm looking for a restaurant near me or I want to check their menu. Knowing this, they set those two options to display right away when a visitor comes to their site.
This user experience is great, because I don't have to worry about zooming in on the screen and trying to tap small hyperlinked text to get the information I need. They make it super easy for visitors to find the answers they want with a mobile game plan and responsive web design.
Getting Social
The last thing I want to highlight from the this site is the clear listing of social platforms. Right on the home page, Buffalo Wild Wings shares the top three places where they hangout; Facebook, Twitter, and YouTube.

If you're investing time and money on social media sites, it is important to clearly link to your profiles from your home page. Some visitors may be more comfortable posting a question on your Facebook page rather than picking up the phone. Buffalo Wild Wings does a good job of prioritizing the platforms that are most relevant to their visitors.
Buffalo Wild Wings really knows their target market. When you walk into one of their restaurants, you know right away what they are all about. They also do a great job of transferring this feeling as soon as you visit their website.
I hope this post gets you thinking about how well your website is positioned to answer the questions that your visitors are asking. To help you work through this process and get started toward building a website that converts your visitors into leads for your business, we put together a website redesign checklist. This free eBook is full of questions that help narrow down the focus for your website – check it out!