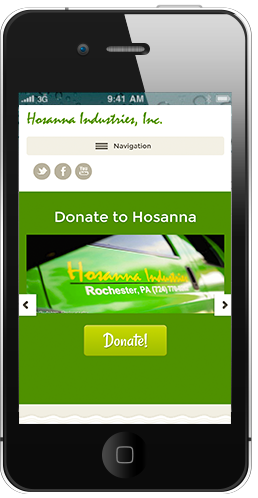 Hosanna Industries, a non-profit organization in southwestern Pennsylvania, provides new construction and home rehabilitation services for low income homeowners, leads disaster recovery missions, and also offers trade skill training. We recently teamed up with Hosanna, and just launched a new website for the Pittsburgh-area non-profit.
Hosanna's old website was difficult to use, hard to maintain, and outdated. Our goal was to craft a more complete hub for Hosanna's online presence with an improved user experience, an easy-to-manage backend that would allow the Hosanna team to manage the website independently, and a slick new design that will function flawlessly on any device.
The Website Redesign Process:
Before creating content, coding up a new site, or touching any technical details, we worked through this Website Design Strategy Checklist to develop an understanding of Hosanna's target website user and focus on their needs.
We recognized and outlined four targeted user personas: volunteers, donors, media, and potential clients. Focused on the individual needs of each one of these target audiences, the next step was planning a user flow and website content that would meet the needs of each segment.
While we designed the site interface and worked to make all the pieces come together, Hosanna took point on creating the site content and did an incredible job! After making some tweaks and fixes, we launched the new site on Tuesday, March 5th. The feedback so far has been awesome!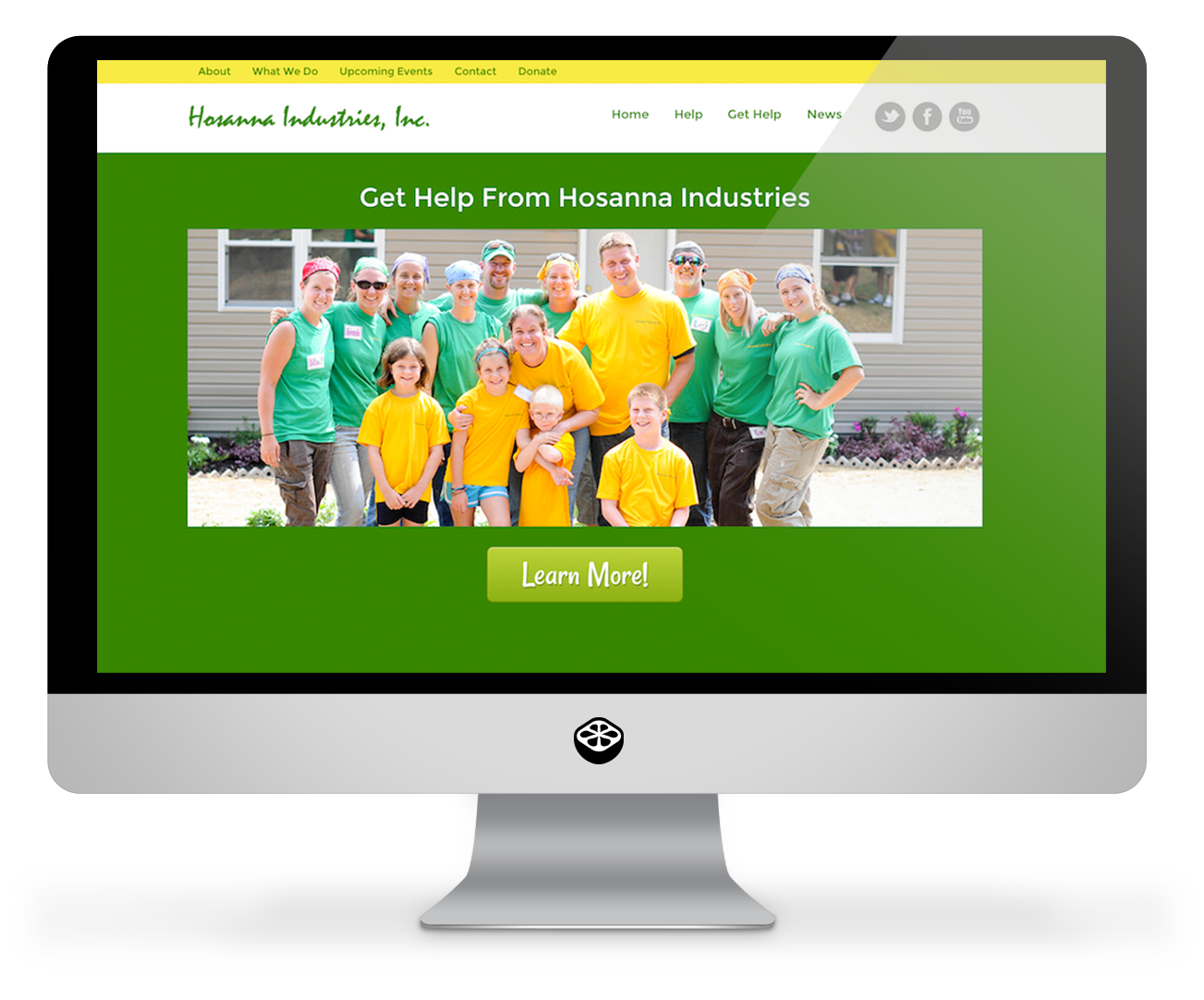 Hey @hosanna_ind! Checked out your new website and it looks awesome. Props to whoever designed and implemented that for you, huge upgrade!

— Tyler Wolfcale (@tylerwolfcale) March 7, 2013
Components of the Hosanna Project:
An online marketing strategy built using the GuavaBox Website Design Strategy Checklist translates into a website that's clearly designed for their target audience.
We built on the GuavaBox Custom WordPress Installation, combining a powerfully optimized framework with an easy-to-use content management system (CMS) that allows Hosanna to fully maintain their new website.
The website is now powered by GuavaBox Hosting & Support that's been customized for fast and secure WordPress-specific website hosting.
We configured Google Apps for Hosanna Industries, providing access to the full suite of Google's apps (Mail, Calendar, Drive, etc.) in a white-labeled, cloud environment.
A fully responsive, device-agnostic website – check out the Hosanna website on your iPad, iPhone, Android device, or any other operating system or browser and the site immediately adjusts to your device.
Social Media, PayPal, and MailChimp integration – it's super easy to donate to Hosanna, join their mailing list, or find them on Facebook, Twitter, or YouTube with quick and easy access from anywhere on the new website!
Google Analytics configuration – the industry leader in site analytics; measuring all kinds of site usage data means that we can track what works and what doesn't, and invest in the areas that provide the best return for the investment.
Post-Launch Redesign Results:
On the measurable scale: it hasn't even been a week yet, but we've seen Hosanna's score on HubSpot's Marketing Grader jump over 45 points to an 80/100. Crazy!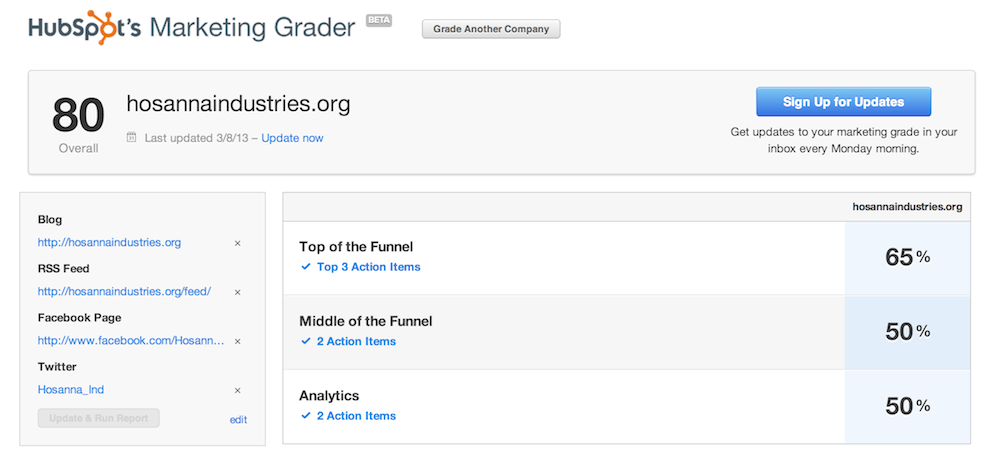 On the scale you can't measure (customer satisfaction): the feedback has been great so far – check out this tweet from Hosanna earlier this week:
We are SO psyched about our new website! Thanks @sgraymackenzie & @guavaboxCheck it out hosannaindustries.org

— Hosanna Industries (@Hosanna_Ind) March 6, 2013