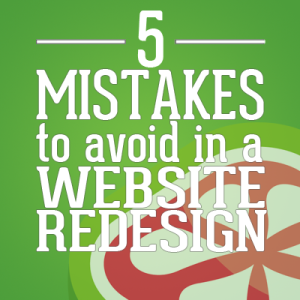 It's no secret that building a new website can be an exhausting endeavor. The fact of the matter is: a new website is expensive and time consuming, especially if you're going about it the right way.
Here are the 5 fatal mistakes that you can't afford to make when building your next business website:
Not building with strategy in mind
Imagine that you've had a luxurious cruise planned for over a year. The ship is brand new, and boy, is it enormous. Now imagine that you board the ship, only to find that there are no ammenities, no staff, and no planned stops.
This is what many businesses do with their websites. They design a site that is truly beautiful, but there's very little beneath the surface. It's important to plan for every prospect, lead, and customer lifecycle stage in mind, catering to different needs based on where customers are in your sales cycle.
By developing a strong web design strategy and remaining disciplined throughout the entire development process, you'll have a finished product that will help your company to consistently drive traffic, generate qualified leads, and close sales.
Developing with stock photos
There's just something about stock images that betray the trust of website visitors. These photographs lack the depth and sincerety of real-world situations, and they're very clearly staged in a a studio. Here are the worst stock photos to avoid!
We recommend collecting original pictures for your new website and, if necessary, hiring a great photographer. If you're a manufacturer, be sure to share photos of your products in your plant and in creative field applications. Not every photo has to be perfect. In fact, it's often the small imperfections that prove how authentic your pictures are. There's absolutely no reason to fill your website with stock photography.
Not building a mobile responsive site
20% of web traffic in the United States comes from a mobile device, with 14.6% coming from smartphones and 5.6% from tablets.
Mobile devices are growing in prevalence and importance every day, so it couldn't be more important to tap into this base of users by creating a site that adapts to mobile devices. Work with your designer to ensure that your site is ready for handheld prime-time and test it extensively.
Skimping on content
Fact: without valuable content your website redesign is a waste of money.
Your site is discovered by relevant prospects as a result of well-written and value-adding content, not a flashy design. When ranking sites in search results, Google looks at the quality and relevancy of content in order to determine which sites deserve recommendations, and which ones come up short.
Spend time creating stellar content. The single best way to drive traffic to your site is to start a company blog and post to it regularly. By doing this, you are constantly adding fresh content to your site, and further optimizing your site for qualified keywords.
Building a website like your brochure
If you've been in business for a while, you probably know what it takes to create a great brochure. But building a website that works is far from creating a brochure.
A quality website is a valuable tool for selling to prospects, leads, and customers at all stages in your sales cycle. Create content, calls to action (CTA's), and valuable offers that are specific to your visitor's needs. Make your site engaging, interactive, and regularly updated so that valuable and relevant visitors will keep coming back time and time again.
Your website has great potential to drive an incredible amount of leads and help you to close sales. Instill in your new business website the content and features that will boost traffic, drive engagement, and generate sales for your business.