Within the last two years, "inbound marketing" has become an increasingly prevalent buzzphrase emerging in conversations around the marketing table.
We're noticing a trend right now—a surge of traditional marketing professionals becoming inbound marketing enthusiasts. They've done some preliminary research in response to their growing needs and have seemed to find a new hope. The hurdle to investing in this discovery? Convincing the boss.
Here are five things that your boss wants to know about Inbound Marketing.
What is Inbound Marketing?
Inbound marketing is a powerful approach to digital marketing that helps businesses grow by attracting traffic, converting that traffic into qualified leads and finally nurturing leads to a sales-ready state. 
Positioning Your Business As Educators
Another way to think about inbound is in terms of how you're positioning your organization. Traditional marketing tends to place your business as an interruptor—just think of the tactics being utilized. Take guerrilla marketing as an extreme example where you're literally showing up unexpected in a public place to cause a scene for your business. Although there is an appropriate time to employ this method, the marketing world is experiencing a serious shift with the way people are making buying decisions.
Inbound marketing strategically positions your organization as an educator that provides helpful resources—eBooks, videos, blog posts, among other info sources—that answer the questions your target audiences are asking.
Building Online Destinations
Just about 57% of buyers have done their research online before even contacting sales. The companies who are winning new business in today's marketing realm are the ones answering the questions the 57% are asking. These companies have set up attractive online destinations that draw strangers and intentionally turn them into delighted customers.
What Does Inbound Marketing Look Like?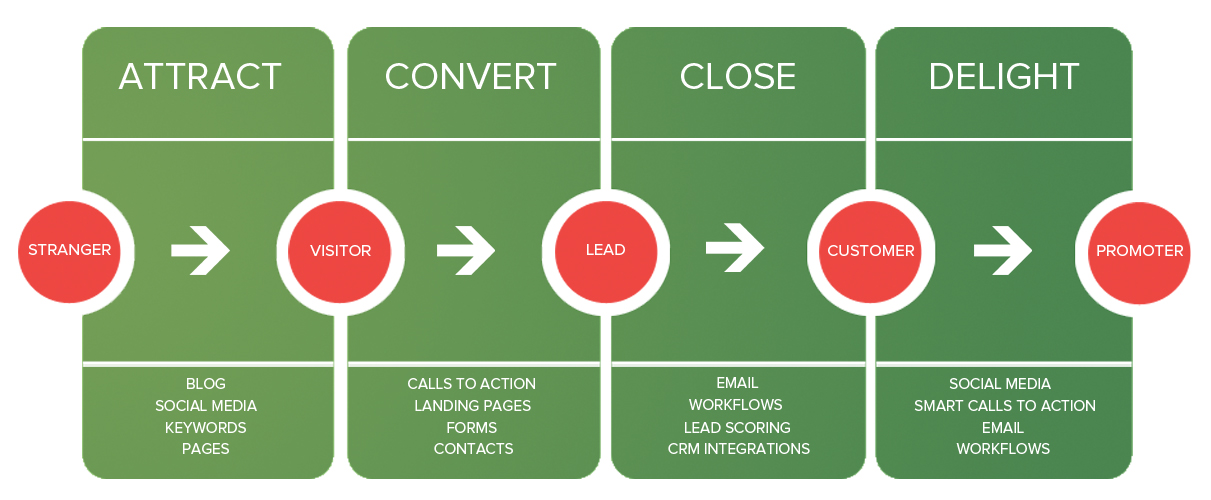 With the methodology in mind, your boss will easily recognize some of the more tangible elements of inbound marketing.
Inbound marketing centers tactics like blogging, social media marketing, email marketing and SEO around the questions your target audiences are asking. It takes this knowledge and creates campaigns that seek to answer those questions and to help them along their individual buyer's journey.
Integrated Digital Campaigning
It is all too common for the people running social media platforms to be communicating completely different messages than the person running content on the website. This creates a disjointed environment where everyone in the marketing department is running around like chickens with their heads cut off.
Inbound marketing appears as a centralized, integrated strategy encompassing every element of digital communications. Again, it centers all of these on the same key messages that you've discovered will attract, convert and close your ideal customers. Social media can't exist in a silo outside of these insights—it must exist within the discipline of a centralized campaign complimenting every other form of digital communications.
Is Inbound Marketing Really for Us?
The short answer is if you rely on marketing and sales methods to bring in new business then inbound marketing is for you. Also, if
Inbound marketing is focused on turning strangers into dedicated customers.
How Hard is Inbound Marketing to Implement?
For most organizations, inbound marketing isn't all that hard to accept and implement. More than likely, most of the drivers already exist. It's just a matter of getting those pistons to fire in an integrated rhythm that revolves around a centralized strategy and mentality.
What it will take for a business to re-purpose what they have into an inbound marketing engine is time, patience and flexibility.
When we begin working with an organization, we take two steps back and go back to the heart of it all—research. We will define who your ideal customers are and dig into their questions and pains. These insights influence our entire strategy moving forward, which continues by developing campaigns to reach those ideal customers. Those campaigns utilize your website, blog, social media platforms, email marketing methods and sales team as a unified force.
How Hard is It to Measure Inbound Marketing?
This may be the best news you read all day—everything conducted in inbound marketing is measurable.
The ability to track the success and progress of your inbound marketing campaigns is surgically precise, especially with the help of HubSpot. You can discover how many visitors are coming to your website, what traffic sources they're coming from, what content they're exploring, what content they convert on, who they are, where they're from and etc. The list of what you can discover and understand is lengthy and all points to your return on investment.