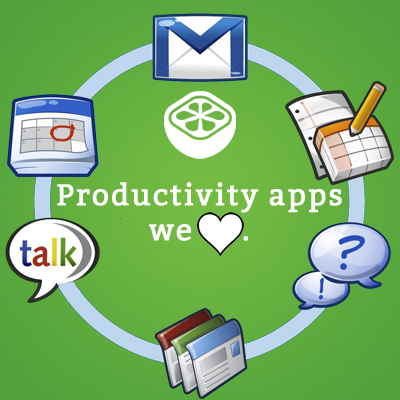 There's nothing I love more than ending my day and feeling like I accomplished something meaningful. The last thing that I want to do is be unproductive because I don't have the tools to do what needs doing.
I've tried hundreds of productivity apps that promise to save hours of my time each week, but only a small number of them actually deliver on those promises and improve our team's productivity.
We have used Google Apps since we founded GuavaBox, and it is an incredible suite of business productivity apps. We use the email client the most, but we also schedule meetings in Google Calendar, and maintain meeting minutes, checklists, contracts and more in real time using Google Drive.
Google mail is an extremely robust email provider, and we feel that the service is worth every penny. Plus, it's way better than having to maintain unreliable servers on your own.
It took us a while, but our team recently dove head first into Freshbooks — and we haven't looked back since. This web-based invoicing software is unrivaled in the industry. It's robust, intuitive, and an all-around pleasure to use.
We've also recently paired Freshbooks with Stripe, which is a developer friendly credit card processing service, and which allows us to configure recurring invoices for our hosting services.
You can try Freshbooks for free for 30 days by clicking here.
This cloud storage and syncing platform allows our team to seamlessly share and organize files across various platforms (namely: Windows, OSX, and iOS). GuavaBox uses DropBox to manage libraries of code, each of which require regular updates. It's great to have the peace of mind that comes with knowing that everything is relevant and up-to-date across our company.
Many businesses can benefit from the incredible sharing and synching functionality of DropBox. Whether it's syncing invoices or sharing photos, I sure know that I don't miss using my USB thumb drive one bit!
This is a service that we discovered at the beginning of 2013, and we feel that it is going to drastically change the project management and CRM application market. Podio offers a generous free account, which allows up to 5 organizational users and unlimited external users. Additional users can be purchased at the rate of $9/user/month.
One of the best parts of Podio is simply how easy it is to customize functionality. Podio features an extensive app marketplace from which its users can install and modify apps to best suit their needs. Whether you're looking for a simple CRM or a highly specific industry application, you can know that you stand a great chance of finding it.
If it's nowhere to be found, pretty much everyone can create an app using drag and drop functionality.
At GuavaBox, we use podio to track our clients and leads, maintain our hosting subscription cycles, and manage our inbound marketing campaigns. Podio is great — check them out!
It's no secret that HubSpot is our bread and butter when it comes to productivity apps.
Within this marketing automation application, we're able to send emails, create calls to action, configure drip campaigns, track keywords, and dig into our analytics. Everything is cleanly presented and easily managed. It's an incredible tool, and it saves us an even more incredible amount of time.
Reach out and contact us to learn more about HubSpot.