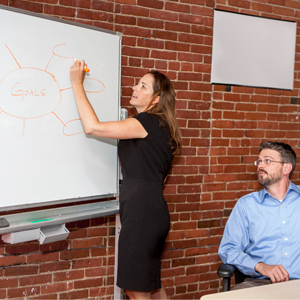 Every day I talk with marketers who are struggling to see real results from their B2B online marketing.
They've invested in social media, doubled down on SEO, and even built a new website, but is this really the best way to go about online marketing?
Many marketers simply don't know.
In my years of experience with online marketing I've seen 7 mistakes that marketing managers make in their B2B online marketing that ruin brands and waste money.
1. They don't define their goals
So, you don't have goals. That's ok….isn't it?
No way! How can you not have goals?
Goals are key to measuring and determining your own success in your online marketing. By not setting goals and key performance indicators, you are setting yourself up for failure, and your job could ultimately be at risk. Be sure to define key performance indicators (KPI's) and agree upon them with your boss. This ensures that there are clear standards for success across your company, and will help you to adjust your campaign on the fly according to your goals.
2. They don't create a strategy
Sometimes I talk with business owners who have goals in place, but they have no defined strategy to reach those goals.
They may want to grow their business by 10%, but they aren't willing or able to define a game plan for how they are going to actually reach those goals. The result: 12 months goes by and nothing has changed.
3. They don't realize that SEO doesn't close sales
SEO is quite the buzz word in B2B online marketing meetings across the globe, but what many people don't know is that keywords do not close sales. Sure, it's important to optimize your website both on-page and off-page, but it is even more important to optimize your site to convert all of that new traffic. Otherwise, you're not likely going to see a blip on your sales team's radar.
4. They think a new website will fix their marketing
When I talk with marketers, it seems that their online marketing is almost always defined by new website designs. In their minds, a shiny new website is often the thing that will bring them the most immediate value.
What they don't realize, however, is that much like SEO, beautiful design is only one component of an effective inbound strategy — and ultimately won't close customers. It is important to consider the content and lead generation strategy for your website. Position valuable content on your website behind a form to generate leads on your website and track their activity from first touch to close.
5. They aren't willing to invest in helpful content
Content creation is one of the most challenging marketing tactics to implement across your company. It takes buy-in from the entire marketing department and (sometimes) the organization as a whole to implement. According to the 2013 state of inbound marketing report, implementing a blog will require 9% of your marketing department's time, but not without significant results. According to the same report, content-focused marketing yields 54% more leads than traditional sources.
6. They want to own all of the sales information
Traditional marketing and sales funnels are powered by the company holding key purchasing information so that leads have to contact sales. The Internet has turned this model on its head, and the consumer is now empowered by the availability of information around the web. According to CEB, 57% of the buying process takes place online before sales is even involved.
If you are hesitant to share important, sales-qualifying information on your website, there's a good chance that potential customers will grow disinterested with your product and turn to your competitor who has better information available.
7. They expect immediate results
The reason that marketers love print pieces and commercials is that these forms of advertising bring instant, overnight results. If they're effective, you'll know right away. The flip side is that these forms of advertising disappear as soon as the magazine is thrown out or you stop paying the network.
With content-based marketing, results take time. The benefit, however, is that content lives on and rankings and success are sustained long after the content is published.
>>Are you guilty of any of these mistakes?
With over 5.1 billion searches occurring on Google every day, marketers are faced with a challenging shift in their strategy and tactics. People are no longer looking for solutions to their problems in the phone books and print directories. Instead, they are searching online for a company who will delight them with the answers they are looking for when they want them.
Companies who make these 7 B2B online marketing mistakes beware: you could soon be out-paced by your competitors who are doing things right.