So You're Telling Me To Use WordPress…
If you work with GuavaBox to develop or redesign your website (or yours is one of over 60 million other websites), you're using WordPress to power your website, the hub of your online presence.
WordPress is an easy-to-use CMS (Content Management System) with search engine-friendly architecture, rolled into a free, open-source, constantly improving, community-driven package.
With WordPress, you get a website that you can actually use. You save time and money because you no longer need to track down your developer every time you want to update or add content. More convenient and far more efficient, WordPress is experiencing exponential growth.
Anyone can go to WordPress.org, download the latest version, and install it on your server. With step-by-step directions to walk you through their famous 5-minute install, your WordPress install could be finished in the time it takes me to brush my teeth. Wait, did I really just type that on the Internet?
If It's That Easy, Why Use The GuavaBox Custom WordPress Installation?
We've crafted a customized installation of the WordPress software that we use on all client sites. We've combined tons of premium resources with hundreds of hours of development time to secure and optimize an enterprise platform for our clients.
The GuavaBox Custom WP Install beefs up security, speeds up your site, enhances the user interface, improves search engine optimization (SEO) structure, and includes a ton of nifty features that sets your site apart from the rest.
GuavaBox Custom WordPress Installation Specifics:
Educational WordPress Training Videos & Detailed User Manual
Short, sweet, and to the point, our educational videos can teach you how to do almost everything in WordPress.
From the most basic task of adding a page and editing content, to something more advanced like custom menu management and optimizing SEO settings, we have over 40 high-quality video tutorials to walk you through each process step-by-step. And our library is growing!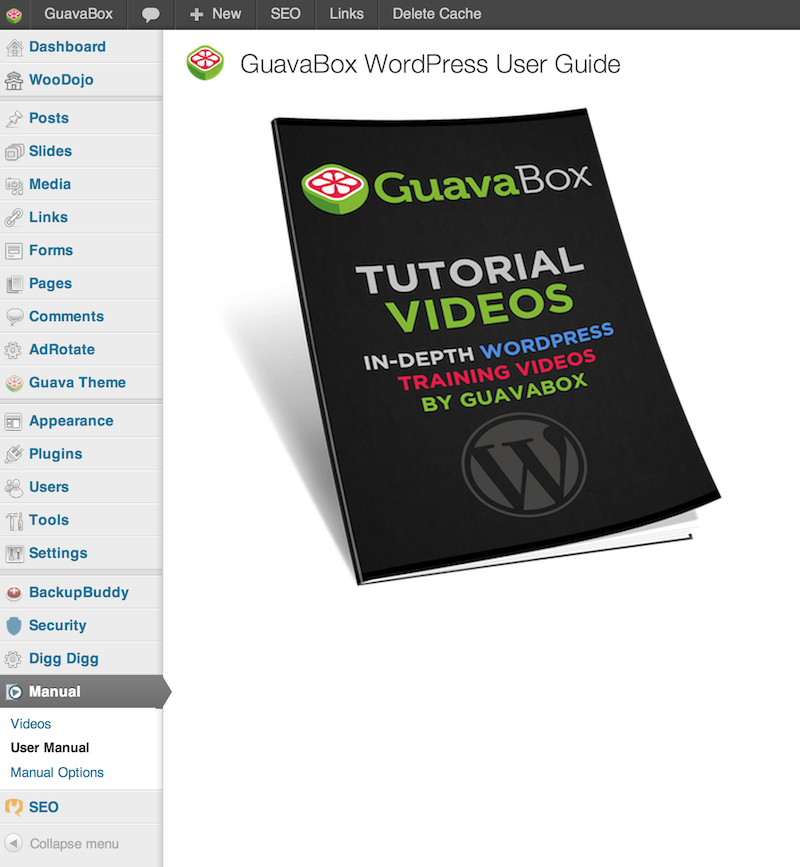 You can watch the videos on demand, as many times as you like, and they're always updated for the most current version of WordPress – never worry about having an outdated educational resource!
If you prefer reading over video consumption, we've got everything documented in a crazy awesome WordPress ninja manual.
Learn it for yourself, or share it with someone else and have the confidence that they'll be able to make the changes quickly, easily, and correctly.
The best part of these resources is that you get to learn what you want to learn, at your own pace and on your own schedule.
Website Security Improvement: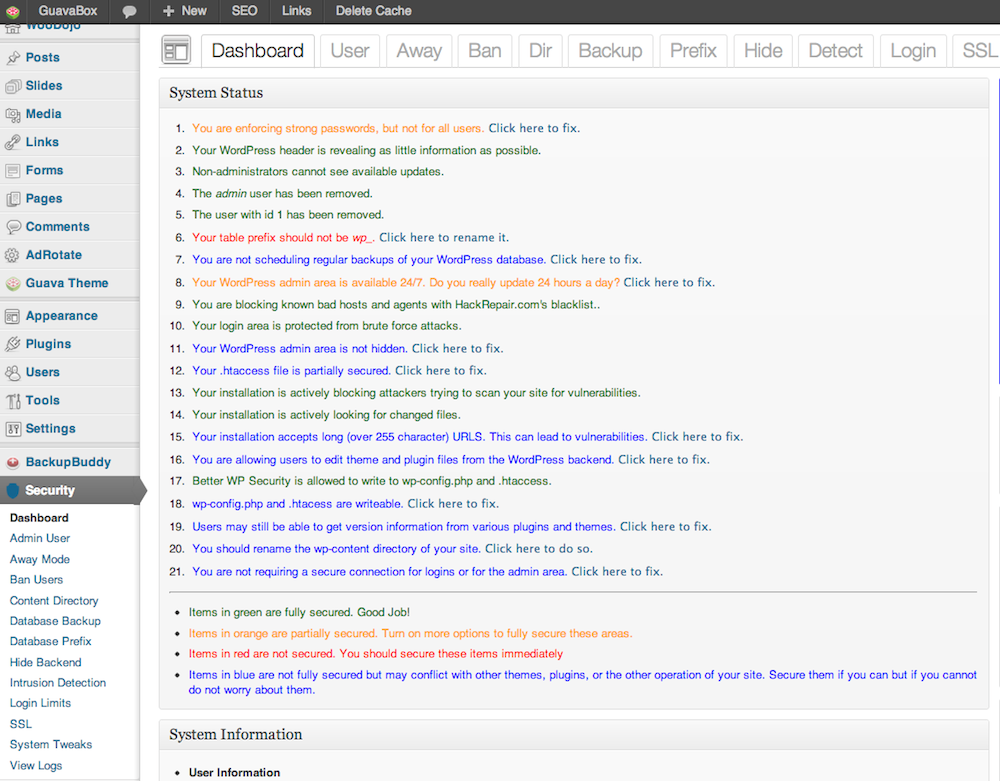 WordPress is a stable and secure platform when kept up-to-date and some basic security features are in place. Because the CMS is constantly improving, updated versions of the WordPress core, plugins, themes, and frameworks are often available.
Our custom WP installation includes all kinds of security improvements to block spammers, stop brute force attacks, prevent denial of service (DDOS) hacks, and lock down the commonly unsecured components of a blank WordPress install.
Every GuavaBox Custom WP Installation includes updated versions of all files, and we strongly recommend choosing a GuavaBox Hosting & Support Package to continue to keep your site safe and secure.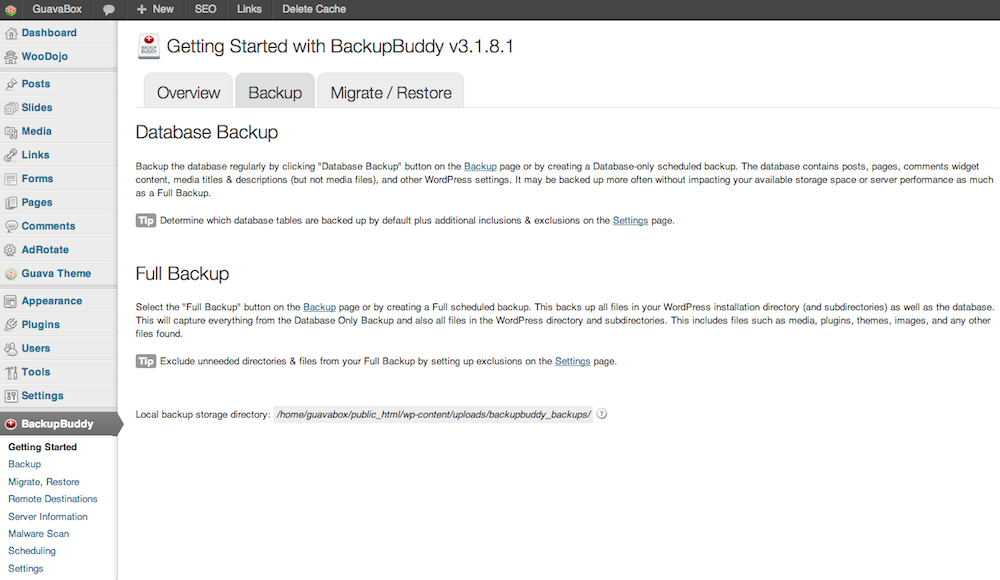 Full Website Backups, Just in Case
Another awesome benefit of the GuavaBox Custom WordPress Installation is the website backup functionality. With the ability to schedule full (or database-only) backups of your website, you can relax knowing that even if something does go wrong, restoring a working version of your website is just clicks away.
Search Engine Optimization: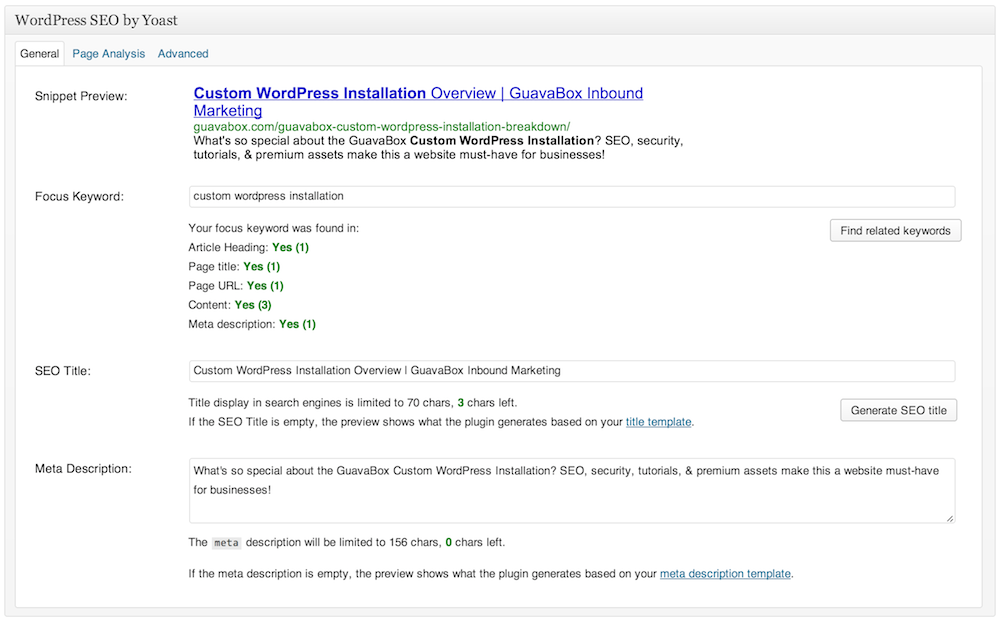 Working with a CMS that search engines like Google already love, you're starting with an edge. Now add in a WordPress SEO plugin with optimization by GuavaBox, and making your content SEO-ready couldn't get much easier.
Use this to improve your search engine results and drive more qualified traffic!
Premium Customized Theme Options
There are thousands of free WordPress themes you can find, but a customized premium theme from GuavaBox will set your business apart from the field.
Responsive, easy-to-manage theme frameworks allow you to control your website's layout and customize the design as well as the content.
These features are just the tip of the iceberg, there's so much more inside the GuavaBox Custom WordPress Installation (sleek form builders, awesome sliders, content management improvements, white-labeling for your business, and much, much more)!
The best part is, the whole installation is included free in every GuavaBox Web Development Package!
I'd love your feedback on our Custom WordPress Install – please leave any comments or questions below.