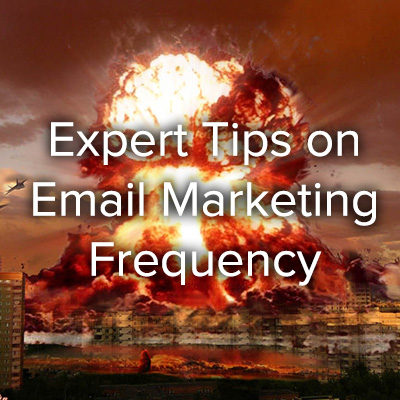 "How often should you send email marketing campaigns?
"What is the right email marketing frequency?"
"When should I send emails?"
Sales managers and marketing folks search for these answers on Google every day. Email is ingrained in our culture, used constantly, and abused just as often. Getting email frequency just right is a major challenge; to make matters worse, it's often a moving target.
Why does how often you send email marketing campaigns matter?
Because it impacts your bottom line.
Overload your email list and you'll wind up with a significantly smaller list.
69% of U.S. email users unsubscribe from lists because the organization sends too many emails. [Tweet This Stat | Source: HubSpot]
Your audience is your lifeblood. You can't run a business without customers, and causing a high percentage of your marketing database to get upset and unsubscribe because of email overdose is a recipe for failure.
On the flip side, you don't want to avoid overdose at the cost of undernourishing your audience and leaving money on the table. I agree with Jeremy Reeves about this statement:
"You will make more money if you communicate with your prospects and customers more often." [Tweet This Quote]
To be clear, "communication" does not always mean "email." The goal of your communication is to build credibility, awareness, and trust with your audience – and email can certainly contribute to that goal.
Finding the right email marketing frequency allows you to simultaneously establish trust, be helpful to your audience, and maximize profitability.
Email Marketing Frequency Best Practices
These recommendations have been gathered from industry experts, but keep in mind that every audience is unique. If you're just getting started or looking to benchmark your email marketing, these principles are a great place to start.
Segment your list – while the vast majority of businesses aren't implementing any kind of segmentation, it is a guaranteed first step to increasing engagement. Context and personalization are guaranteed to increase your open rates, click rates, and ultimately, revenue. [Source: The 3-Minute Guide to Marketing Database Segmentation]
Start with high frequency, then slow down – immediately after signing up, you know that people want to hear from you. Give them helpful, action-oriented content with a high frequency. If they don't buy from you within the first week or first month, don't write them off, just recognize that they're not ready yet. Stay on their radar with regular emails, but there's no need to overwhelm them and scare them away. [Source: Hot Potato Effect from CrazyEgg]
Establish regularity – people are incredibly habit-oriented – they don't like change. Establish a regular schedule and stick to it, don't email three times on one day and then blast them irregularly. [Source: c'mon this is common knowledge – people are creatures of habit.]
Test and optimize – this is the most important step. The other three recommendations are simply common principles that work well for many other organizations. Testing and adjusting, however, is a rule. You absolutely must test new ideas and compare results to find what works best with your audience.
Want to keep improving your sales numbers?
Email marketing is a great step for boosting engagement and qualifying prospects. If selling is your challenge right now, go beyond just improving your email automation game and learn about additional sales secrets in this awesome eBook filled with insider sales secrets from companies who are blowing projections out of the water with their sales numbers..