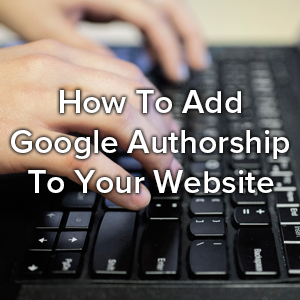 Important Update: While Google Author Rank is still alive, Google has effectively dropped Google Authorship.
If you've previously configured Google Authorship, just leave it as-is. It definitely doesn't hurt anything.
If you haven't set up Google Authorship yet, don't worry about it.
Check out Danny Sullivan's post for more details.
Google's Author Rank concept has been steadily progressing for years, and the introduction of Google Authorship and Author Rich Snippets, featuring a person's photo, byline, and Google+ profile, has been a game changer for click-through rates of organic search results.
What Is Google Authorship?
Google Authorship allows you to claim your content and make it feel more personal. By adding author information to search engine results, people can instantly see the name and face behind the content.
Here's a Google Authorship example taken from Google results for "Facebook Contest Apps:"
Why Is Google Authorship Important?
Which search result from that previous example sticks out to you? The one with a picture, author name, and Google+ information, right?
The Author Rich Snippets included in search results create a powerful first impression. Obviously that can go both ways – it could create feelings of trust and credibility, or it could seem shady, sketchy, and untrustworthy.
If you use it legitimately, Google Authorship can increase click-through rates (CTR) significantly. This is probably an extreme number, but one case study shows a CTR increase of 150%.
There's not a downside according to Google, and it's not a stretch to bet that your CTR will increase noticeably if you configure Google Authorship for your content.
How To Add Google Authorship To Your Website
Okay, we're finally getting into the good stuff. Let's walk through the process in detail and learn how to add Google Authorship to your website and content.
1. Create a Google+ account and verify your email address
Unless you're an Internet n00b, you can definitely figure out how to create your account…so good luck with that one.
Once it's created, make sure that your email address is verified by checking Contact Informationon your Google+ profile's "About" page – you'll either have a checkmark next to your email address or a hyperlink to "verify"…I'll let you guess which one you need 🙂
2. Link your Google+ profile to your content

In the Links section on your Google+ "About" page, add your content in the "Contributor to" area. This might be your business blog, personal site, or a website where you're a regular contributor.
3. Link your content to your Google+ profile
Using the rel="author" tag, link to your Google+ profile either from your author box at the bottom of your content or from a byline on the page.
It means using a little HTML, but don't let that overwhelm you. Here's the code you can copy and paste:
<a rel="author" href="https://plus.google.com/u/0/107209899410031228499?rel=author">
Just make sure to replace my profile ID (that crazy long string: "107209899410031228499") with your actual profile ID.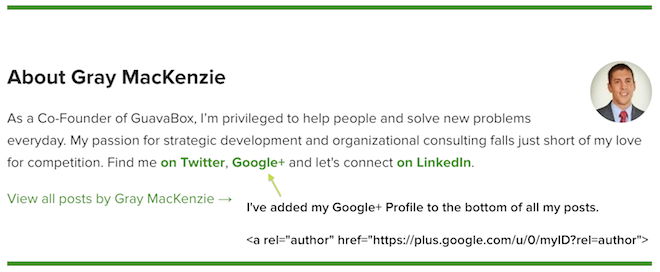 To be clear, there are a ton of other ways you could accomplish the same thing – WordPress plugins, bio pages, etc., but this is one way that is guaranteed to work.
4. Test everything to make sure it's working
Much as we'd like to think that everything will work perfectly the first time we try…sometimes it breaks.
Fortunately, Google shared a rich snippet testing tool that provides previews of how your content should show up in search engine results. Set up Google Authorship, then test it to make sure it's working correctly.
Additional Resources:
Time To Improve Your Overall Marketing Approach?
Getting Google Authorship set up is a great step forward for your content marketing efforts, but there's always more you can do. We're sharing this B2B Marketing Checklist to help you grow your business – check it out!