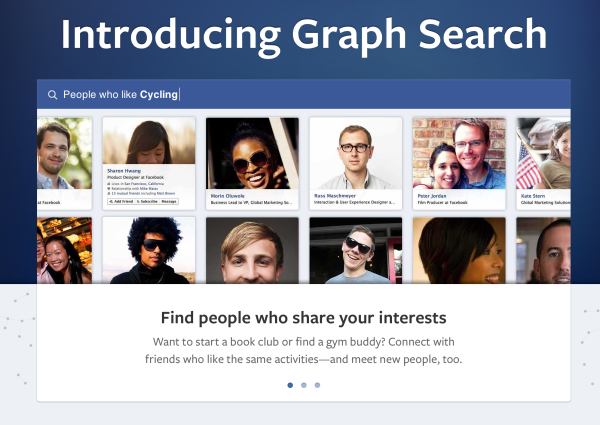 Facebook Graph Search is a new search experience on Facebook, and we think it is going to do great things for both B2B and B2C social media marketing.
We feel that this new search function (which adapts to a user based on his or her profile), will help businesses to not only see more traffic, but to also see more qualified traffic.
In a video on the Facebook Graph introductory page, the Facebook team explains that a multitude of factors play into each search result, with the end-goal of a more personalized social search experience than ever before. It sounds like page content such as photos, links, videos, and status updates will be indexed and presented in relevant user searches.
Facebook's end goal seems to be a well-rounded search engine that is highly relevant, connecting people with content drawn from friends, friends-of-friends, pages, and web searches, ultimately helping people find relevant content quickly, and suggestions based on specific criteria (like geography, interests, and time periods).
As marketers and business owners, it can be difficult to understand exactly how these changes will affect the way we use Facebook. Rest assured, it seems like Graph Search will do nothing but help businesses get found.
We feel that it is going to make it easier than ever for qualified traffic to not only find your page, but to view your most relevant content as it best relates to their interests.
Before Graph Search, when new content was posted to your company wall, it would lose visability as new content was published and old statuses were pushed south of the fold. No longer. One of the greatest takeaways from the announcement is that your precious content will live on, even if it isn't prominently displayed at the top of your company's timeline.
This translates to a better chance of leads finding your content, regardless of when it was first shared, but it will also be more important than ever to carefully review everything that is posted to your timeline.
Graph Search is currently being offered as an invite-only beta service, but it will be gradually deployed to a broader user base in the coming months.
We're excited to see what other benefits come from Graph Search. What do you think are some ways that Graph Search will improve the Facebook experience for marketers and consumers alike?
Let us know in the comments!