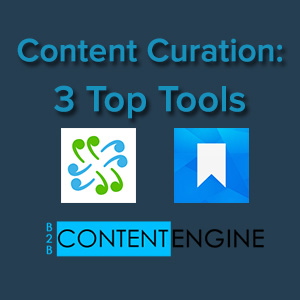 Back in 2011, over 27,000,000 pieces of content were shared each day, according to AOL & Nielsen's Content Sharing Study. Since that study, the numbers have skyrocketed and the quantity of content available today is truly overwhelming.
As a result of the content creation spike, content curation has become a big-time marketplace. There are thousands of tools available to help you cut through the noise, find the best resources, and subsequently share those resources with your audience.
Three of those available tools, Crowdbase, Spundge, and B2B Content Engine, are among the top budget-friendly tools for digital content curation.
Note: I've used all three, and these are my honest thoughts on the platforms – I'm not an affiliate of any of these companies, so this review isn't altered by money. With that being said, let's dive into a review of these 3 top tools for content curation:
Crowdbase Review: Centralize your team's knowledge
Crowdbase was built more as a team collaboration space than to be a curation blogging platform. That's a strike against it for the purposes of publishing curated content, because there is no easy way to produce curated blog posts from directly within the application. Instead, you're forced to pair your Crowdbase interface with your blogging platform or text editor side-by-side to actually write curated posts.
On the bright side, Crowdbase gives you good control over the streams that you bring in: RSS Feeds, Twitter users, hashtags, or searches, and web keywords. You set up the feeds, and allocate default categories to bring the best material into, and it gives you a good intermediary place to store a handful of articles that you might like to write about – it just means that you have to take it outside the platform from there.
We use it to stream in all of our feeds (relevant industry news and things we're keeping an eye on) – here's a snapshot of the feed interface: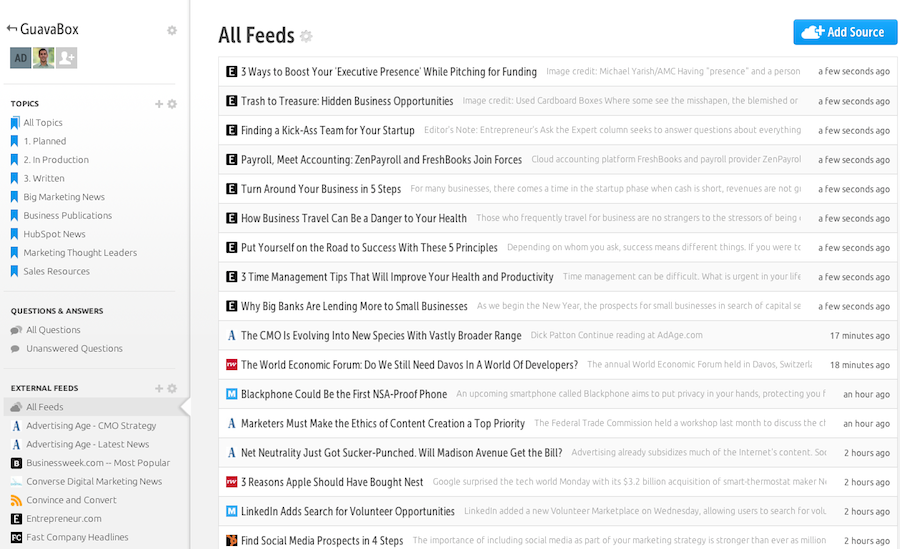 Once we have the feeds imported, it's a regular process to go through, select the ones that look interested and import them into topics for a more in-depth look and selection process before we move them into production. Here's what the topic space looks like: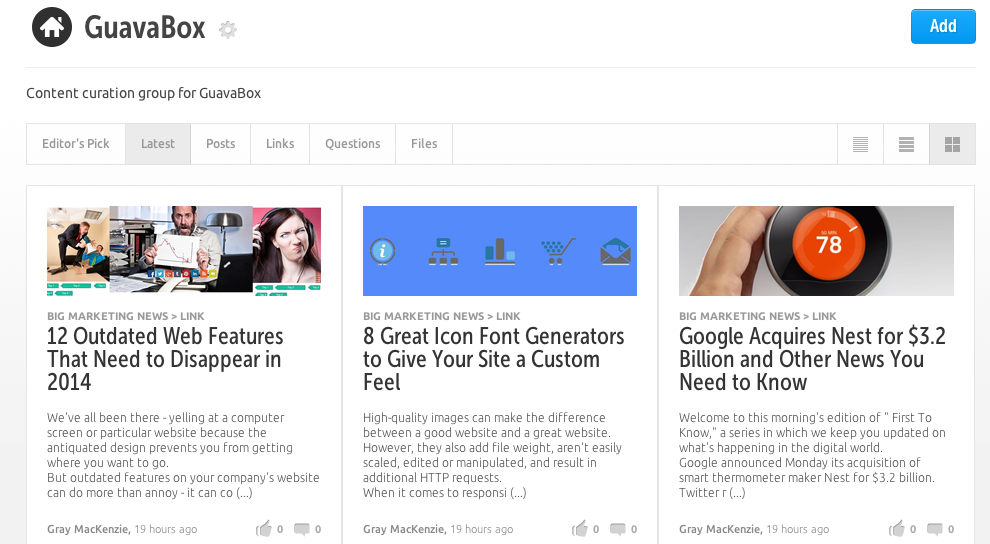 From the topics screen, we add comments and select the posts we want to keep by changing the topic to "Planned," "In Production," or "Written." This keeps the interface cleaned up and allows us to easily write curated posts directly from the topics screen.
While it doesn't seem to be the exact intended use by the Crowdbase team, the system works fine. If the complexity of the added steps of not using an integrated curation and editing/writing platform is worth it to you in exchange for the price tag, this is a good solution. It's free for up to 10 users, then pricing starts at $100/month.
Note: Like many curation platforms, they have a browser extension to easily add, categorize, and comment on interesting stuff you find around the web.
Spundge Review: Intelligent, collaborative curation platform
Spundge has a free or a Pro version ($9/month), and allows you to curate content streamed in through their "firehoses" into notebooks. One cool feature is the ability to have public or private notebooks (private is a Pro-only feature) and collaborate with any number of other users.
Basically the platform works like this: you create your notebook and tweak the settings, then configure your firehoses to stream in content from RSS feeds, social media networks, or select other platforms, and then you either save, ignore, or select "less like this" from your firehose stream. The idea is that the system gets smarter over time and the quality and relevance of your firehoses improves. Here's a glance at one of my notebooks: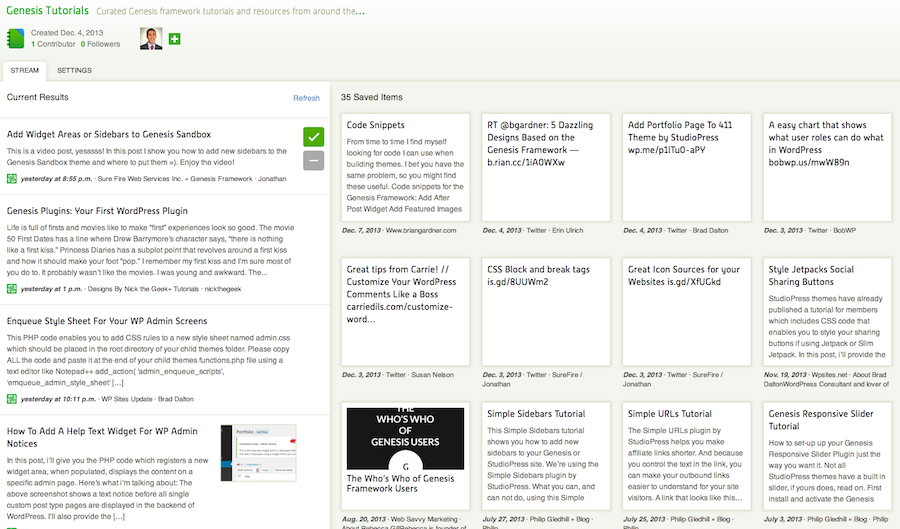 Unlike Crowdbase, Spundge Pro allows you to easily write from within the platform, but the citations and publishing integrations can be hit or miss. This potentially adds a significant step into the curation publishing process, but it does keep your costs low.
Note: Spundge also offers a browser extension, and they allow you to embed your notebooks easily by using javascript snippets.
B2B Content Engine Review: Create, curate, and distribute
This is the least budget-friendly (B2B Content Engine Pricing) of our three options here, but it's still relatively inexpensive compared to a platform like Curata.
Pros: B2B Content Engine allows you to easily cite and write. You select the articles you want to cite and what to quote from those articles, and the platform pulls that into their editor and automatically cites it for you. It syncs with HubSpot's old CMS allowing you to draft posts from their platform and have them appear in your HubSpot CMS blog. This curation/publishing integration is their major strong suit.
Cons: The interface is old, boring, and not particularly user-friendly. The idea is great, but if you're looking for a special burst of creative inspiration during your writing process, don't write inside the tool.
Personally, I prefer the interface and price point of Spundge or Crowdbase, but the B2B Content Engine integrated publishing is a time-saver. I think that Crowdbase does a better job of allowing you to customize your feeds than Spundge, and for those reasons, I'm using Crowdbase at the moment.
There are tons of alternatives to these platforms, but these are three of the top tools for content curation on a budget. Go ahead and share your toolset or ideas in the comments section!
{{cta('3181a7db-a134-4f50-ba72-5a4e1b912932')}}