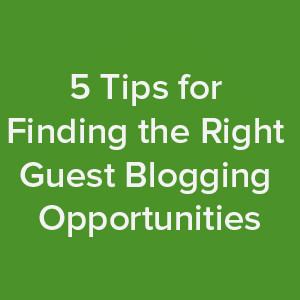 I was sitting at a board table with a team of professional marketers a few days ago and they had a problem.
They wanted to start guest blogging, but weren't sure where to begin. It can be an overwhelming thought with so many blogs out there. Here are 5 tips to help you sort through the mess and find best guest blogging opportunities for your content!
Focus on the Interest, not Application
When you're looking for guest blog opportunities, look for blogs that share content that your target personas find interesting.
Example: If you're a healthcare HR company, don't just look for blogs that talk about healthcare HR topics. Think about the types of topics that HR professionals in the healthcare industry would be interested in. With that list is mind and on paper, begin searching Google for blog on those topics.
Find the Watering Holes
Social communities are the places where people with similar interests congregate online. These are LinkedIn Groups, Google + Communities, Twitter chats, and Facebook Groups. Within these spaces you can find out what type of content is shared, discussed, and commented on by folks in your target persona.
Reach Out to Bloggers on Social
Once you have found a blog that you feel would be a good fit for a guest post, it is time to get in touch. Today is it so easy to cut thought he red tape and speak with decision makers. This is especially true in the blogging space.
Search through LinkedIn Groups, Google + Communities, and Twitter chats to find who is sharing content relevant to your audience. Create a list in Evernote or in a new bookmark folder. Then start following and reaching out to these folks.
Offer Original Content
When you're trying to get a guest post published, always share original content. A blogger doesn't want to post old content to their audience. They want to post some thing new that won't be considered duplicate content.
This doesn't mean you need to totally return to the drawing board. If you have a popular blog on your site, try tweaking the post to give it a different spin. When you're pitching the post you can showcase the success of the original one to validate your topic choice.
Forget the Swap
A guest posting tactic recommended by some is to suggest a content swap with a blogger. This is a good opportunity once there is a relationship established with a blogger, but suggesting a swap can be a hard way to get your foot in the door.
Just like when you're creating content, put yourself in the shoes of your audience. In this case that is a blog manager. What are blog managers always looking for? Awesome content! What is the most valuable asset to a successful blogger? Their readers.
With this in mind, forget the swap. Just create a great piece of content that the bloggers readers will love. This makes the blogger's life easier because that is one blog post they don't have to write. It makes the blog readers (which your target persona is one of) happy because it is amazing content. And it makes you happy, because you have reached a new audience, gained an authoritative inbound link, and you have established a relationship with the blog manager. Win, win, win!