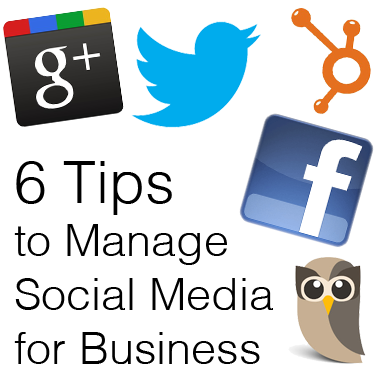 Today social media activities account for one out of every six minutes spent online. That is a crazy amount of time! With companies on Twitter generating 2X more leads per month than those not on Twitter, we know that social media is an important marketing focus. The key is to find the balance and manage your social media for business commitment. Here are six tips to help do just that.
Invest in Good Tools
Time is money. Don't be fooled by the line that social media is free. It is anything but free. Switching from platform to platform can cost you valuable time.
When you start looking for social media management tools, the options can be overwhelming. Hootsuite is a great option for everything from personal use to medium-size business use. It allows you to update multiple profiles with a single click. Hubspot offers a fantastic set of social media tools that are streamlined and integrated into the rest of your inbound marketing activities.
Get Hootlet!
One of the new features offered in Hootsuite is a bookmark extension called Hootlet. With this new tool you can tweet an article from your browser with a single click. It will grab the title of the article and automatically create a trackable shortened URL.
You can then select which social media account you would like to share from. It can even update your following across multiple plaforms.
My favorite feature is the new AutoSchedule option. Automating social media publishing is a great way to help maximize your time. Instead of manually setting the time and date for your update, Hootsuite finds the best time to share your update.
Setup a Feed of Fresh Content
A big part of a establishing a strong social media presence is sharing relevant resources around your niche or industry. Staying on top of the latest industry news can be a daunting task to tackle day in and day out.
One efficient way to stay ontop of the news is to set up a RSS feed in Google Reader. Start by searching Google News or Google Blogs for your industry topics. Then scroll to the bottom of the page. Right under the Google logo you will see an RSS button. Copy this feed into your reader to create a constant relevant stream of content.


LinkedIn is also a great source for fresh content. Add your interests into LinkedIn Today and you will receive relevant news everyday, tailored to your areas of interest.
Create Twitter Lists
Twitter allows you to set up lists of accounts. You can categorize the accounts you follow into relevant lists. These lists can be both public and private, but it is better to make it public because creating a public list can kill two birds with one stone.
Public lists give you a relevant stream of fresh content to share with your following. Public Twitter lists can also be followed by other people. This means that industry peers can see the list you have put together. This can help to further position your brand as a thought leader in your industry.
Save Searches
Monitoring brand, product, and employee mentions is important for marketers. Successful monitoring has to dig deeper than just being notified when your page is tagged on Facebook or when someone @mentions you on Twitter.
A lot of brand, product, and employee mentions occur without including special tags, but it's still possible to be informed about these updates.
Inside your social media monitoring dashboard, like Hootsuite, you can set up streams of updates. These streams function off of parameters that you can set. It is helpful to set up Twitter searches for:
Brand mentions
Product mentions
CEO, President, Board of Directors mentions
Industry keywords
Industry hashtags
Track Almost Everything
When you start talking about social media people inevitably ask "Is it really worth the time it takes" or "Can you really track the money spent on social media back to ROI?" The answer to both of these questions is yes!
Hootsuite offers a decent set of analytics on things like RTs and on the number of clicks your links received. Using these types of analytics are difficult, because they are only relevant to people who understand Twitter or who know what EdgeRank is all about.
To gain an understanding of ROI from social media requires an integrated solution like Hubspot. Social media is a great tool to feed the top of your funnel with qualified website traffic.
With Hubspot, social media data is collected on your leads. This allows you to target social media influencers with specific messages and know when members of your social networks download resources from your website. This integration is key to understanding how social contacts work their way through your sales funnel and convert to customers.
Social media is an important tool when it is incorporated into a complete marketing plan. If you're trying to use social media alone to generate more leads for your business, you're going to get frustrated. Check out our ebook How to Enhance Your Internet Presence with Social Media to learn how you can connect social media into a more complete internet marketing presence.