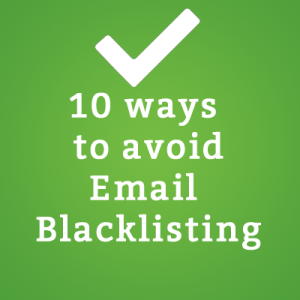 Email marketing is one of the most direct ways of capturing your lead's attention. Using services like HubSpot, MailChimp, and Aweber, you can personalize widely-distributed email campaigns to speak to the person by name, company, or any other data that you have compiled.
It's important to be careful, though. In a world where it's a common practice to purchase email lists or spam everyone from a trade show, email providers have started cracking down on irresponsible senders.
The result: blacklisting.
Email blacklisting is the compilation of domains and IP addresses that are filtered out of all incoming email. Essentially: if your IP or domain is blacklisted, theres a high probability that your contacts will no longer even receive your emails.
The fact of the matter is, many of the "spammy" actions that lead to blacklisting are downright illegal and can even get you in trouble with the law. It's important to differentiate yourself from spammers to prevent confusion and to provide a positive experience for your email list.
Don't send spam.
Ok, this seems pretty obvious, but it's incredibly important to clarify. Don't ever accept money to send or forward an email. Ever. This is spam, and there's a high likelihood that you will be caught, blacklisted, and potentially charged in violation of the CAN-SPAM act.
People are fined and spend time in jail for abusing email lists, so it's important to refrain from sending anything that even resembles spam.
Offer something unique in each email.
Never email the same or similar content over and over to people on your list. It is important that each email is different from the ones that came before it. Offer something unique, fresh, exciting and new to your readership. Besides, who wants an email every week telling them to buy the same old thing?
Only email individuals who signed up for your mailing list.
It's tempting to buy email lists, but these lists are almost never high quality and people are likely to mark unsolicited emails as spam. Stick to the people who have directly subscribed to your email lists. Employ lead generation tactics that work and start populating your list and emailing highly qualified, naturally engaged leads.
Don't lead your reader on.
Few things are more frustrating than an email that tries to string readers along with a vague subject line or content. Be clear about what you have to offer and display a prominent call to action leading to a safe and well-defined place. If you are vague, your email will seem spammy to readers and email providers alike, and you'll end up in spam folders.
Send with a healthy frequency.
Be mindful of how many emails you send per week, and of the interest expressed by the person that is on the other end. Establish a schedule that is fair and won't overwhelm your readers. With some programs like HubSpot, you can create a lead nurturing or drip campaign that send specific emails at a pre-defined frequency based on user submissions on your website. In these instances, it is more acceptable to send at a higher frequency than for someone who is less interested in your content.
Send from a real email address.
A huge red flag for email providers are emails that use "spammy" send as addresses. Emails addresses like [email protected] are much more likely to be flagged than an email address that is regularly used and monitored by a real live person.
NEVER USE ALL CAPS.
This drives me loopy — and it's spammy! On the web, using all caps is like shouting. For some reason, spammers love to use all caps. For this reason, you should never use all caps in your emails. Use bold, italics, and underline features instead.
Don't over-use images.
Providers are really starting to crack down on emails that use too many images. With that being said, images can be very effective tools in capturing natural, healthy interest in what you have to say. Use a healthy combination of images and text to ensure that you aren't flagged.
Use the right kinds of words.
Don't inundate your readership with traditionally spammy words like "free," "sex," and similar terms hold a ton of weight with spam filters. Make a conscious effort to choose words that back up your legitimacy.
Use a consistent template.
Messages come off much more cleanly for providers and users alike in a well-branded, consistent template. We recommend developing a template that you will use for sending all newsletter correspondence that makes it clear that it's an advertisement from your company. The more up-front you are, the better you will fare against blacklisting.
How do you keep your email content fresh?
As long as you are sure to create and share content that people love (with their permission of course), you shouldn't have to worry about email blacklisting. With that being said, it's important to be cognizant of emailing laws and best practices.
How do you make sure that your content is valuable to your audience? Share in the comments below!