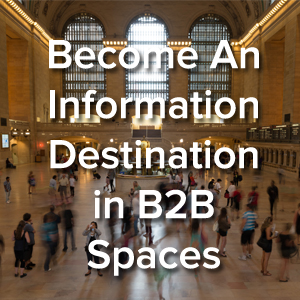 Today's buyers have changed the game when it comes to B2B customer acquisition. A combination of new technology and a decisive shift in consumer behavior has tilted the deck in favor of the purchaser. Today's B2B buyers are doing their own research, they're evaluation options on their own, and they're making their purchase decision based on relationships.
To win in this space takes a new approach. Old-school marketing activities like buying lists, blindly attending trade shows, and printing more marketing material won't cut it anymore. To win today, you need to meet the customer where they are at and provide your expertise as a resource.
Information is currency. It is traded everyday on the world's top social media sites and it is ranked on Google. B2B buyers are craving information that helps them solve their pains. The question is: will your company show up in the results?
Companies that utilize an inbound marketing strategy can position themselves as an information destination in their B2B space. They can be found when people start searching and build valuable relationship by helping people solve their problems.
Create an Inbound Marketing GamePlan
Building a strategy is the essential first step in getting started with inbound marketing. An Inbound Marketing GamePlan starts off by clearly identifying the buyer personas. Understanding buyer personas and the questions they're asking is the keystone to the entire content strategy. It is only by understanding their pains and questions that you can begin to create eBooks, courses, and blog posts that will help them out.
A GamePlan identifies the type of content that needs to be created for each stage of the buyer's journey. Through the process of building an Inbound Marketing GamePlan you will outline offers and experiences for Decision Stage, Consideration Stage, and the Awareness Stage of the buyer's journey.
After outlining your offers, build out your blogging schedule. Use the questions that your personas are asking to craft blog posts.
Build the Education and Nurturing System
After a plan is in place, you can begin building offers from the ground-up. Start with Decision Stage offers and then proceed to Consideration and Awareness Stages. Create landing pages, thank you pages, opt-in forms, and calls to action for each offer and place them on your website.
With offers created for each stage of the buyer's journey, you can begin to build a lead nurturing system. The goal of a lead nurturing system is to take a reader from the Awareness Stage, educate them through additional content, and escort them along their journey.
Create Content on an On-going Basis
With a system in place to convert visitors into leads and a nurturing sequence in place to further educate them, you can begin the process of attracting visitors to your website. Blogging is the best way to attract organic visitors to your website. They are like the Swiss Army Knife of inbound marketing tactics. A blog post is a new page on your website, so it is another page indexed in Google and other search engines. They are also great resources that can be shared on Twitter and into LinkedIn Groups.
Posting to your blog regularly has a positive impact of the results you can expect to see from inbound marketing.
If you'd like some help outlining an Inbound Marketing GamePlan for your business, just contact us. Brandon will walk you through the process of designing an Inbound Marketing GamePlan to reach your business goals.
With a killer inbound marketing strategy in place, you can begin creating and repurposing content that helps your readers. If you're interested in learning more about creating online content for your company, check out The Ultimate Guide to Epic Content for Boring Industries. This free eBook is packed to full of helpful tips and tricks to help you create truly epic content regardless of your industry.