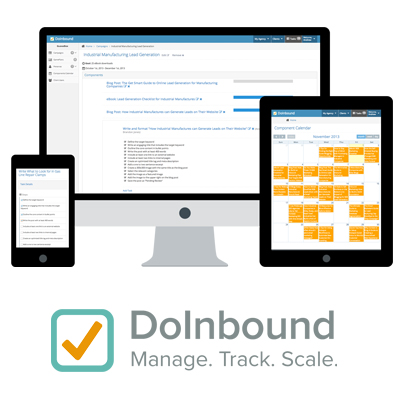 If you've read our blog, you already know that we geek out about inbound marketing. We love it.
We're constantly creating content to help others do inbound better, and we're constantly testing out new methods on ourselves to keep pushing things forward.
Today, I'm excited to announce to the GuavaBox blog community the release of a brand new tool that will help people do inbound marketing better, DoInbound.
DoInbound is an inbound marketing campaign management tool for inbound agencies.
DoInbound was born out of our own pain. We just couldn't find a tool that allowed us to manage everything we needed to consistently and efficiently deliver inbound marketing campaigns for ourselves and our clients.
Here's a brief overview of some of the early features -if you're interested in a personal demo, just reach out here.
DoInbound Overview
Manage Inbound Campaigns
Successful inbound campaigns are built with a collection of components working together within a unified strategy.
Every campaign component, like a blog post, requires a number of steps or tasks to complete. With DoInbound's campaign management you can easily plan a campaign from start to finish and keep everyone within the organization moving toward the goal.
Manage Content Creation.
Delivering inbound services requires a diverse team. Whether your team is spread across an office or across the globe, it's important for each member to have the information they need to do their job, plus the context and understanding to make it amazing.
The task view allows your employees or contract partners to have access to the work assigned to them, the processes they need to follow to deliver the work, and the context needed to create awesome results.
Create In-depth Personas.
Making lovable marketing starts with an intense focus on your target audience. That focus needs to be pervasive within your organization – everyone should be able to tell you anything you want to know about your buyer personas.
DoInbound's integrated persona development feature highlights your personas and allows clients, team members, and contractors to focus on your target audience in every marketing activity.
Track Activity Across Your Team
As you manage inbound campaigns, you need to keep your finger on the pulse of your team. Account managers are in charge of keeping a lot of plates spinning at the same time, but often at different speeds.
It's important to visually display the information they need to quickly make smart decisions to maximize time and resources. With DoInbound's built-in task checklist functionality, account managers can easily track their team's progress toward client deliverables.
Track Progress Across a Campaign Calendar
In a single glance, account managers and clients can get a bird's-eye view of the editorial calendar.
The component calendar allows you to easily see what components are coming due and easily check on the development status of individual components.
Processes Unique to Your Team
An agency is defined by the results they deliver to a client. What sets you apart is the unique process you follow to deliver those results.
DoInbound allows you to systematically capture your unique internal processes in step-by-step detail. This allows anybody on your team to follow the same step-by-step system and deliver consistent results.
Processes Live Where Work is Done.
A smart process doesn't live in an employee binder on the shelf. To make a real impact on the way your business works, processes must live where work is being done.
Bringing processes and tasks together within the workspace allows your employees and partners to quickly and easily understand what they're supposed to do and how they are to do it.
Next Steps
If you're interested in learning more about how DoInbound could improve your inbound marketing campaign management, simply reach out here. Zero obligation by setting up a demo. You will also be able to learn about the special early adaptor perks we have lined up. Pretty exciting stuff!
So sign up for a personal walkthrough and consultation. Looking forward to talking soon!