With so many ways to generate leads online, it's increasingly difficult to find the best areas to dedicate your time. Business owners are always asking me how to learn social media marketing in a way that will bring these leads in the door.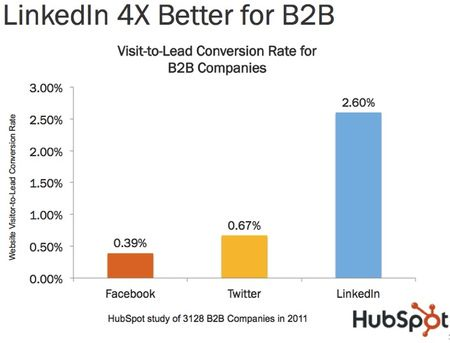 LinkedIn couldn't be a more valuable resource for generating qualified B2B leads. In fact, studies show that LinkedIn has a 4x higher visitor-to-lead conversion rate than Twitter or Facebook.
As with other methods of lead generation, LinkedIn will take time and dedicated investment to fully develop and mature. It's important to understand how to best use social media marketing on LinkedIn for your specific industry.
We have found 6 great areas of engagement that will help to boost your lead generation on LinkedIn.
Join LinkedIn Groups
LinkedIn has a strong community of specialized industry groups, and it's important to seek out other industry professionals who may be interested in what you have to say. Using these online discussions, leaders in your organization can work to become thought leaders in your company's industry. Once you have developed some klout, leads will naturally come to your company for more information, and will quickly trust you when they're ready to buy.
Create and Share Brilliant Content
Great content makes all of the difference in any successful inbound marketing campaign. By creating industry-leading content and sharing it on both your business and personal pages, you can start to build an audience and spread your content throughout your industry.
Use LinkedIn Answers
This is a tool that is often overshadowed by LinkedIn groups, but it holds immense potential for lead generation. Those who are posting questions to these boards are usually looking for an expert with a solution to their problem. It's important to answer their question directly, but don't be afraid to also be open about what your business can do to help as well (if applicable).
Utilize the 'People' tool
This is a great utility for using your connections to extend your reach. By searching for a specific company in the upper right hand corner, LinkedIn allows you to not only see any of your connections in that organization, but also the connections that they have as well. When you find someone that you would like to be connected with, just ask your friends to connect you via LinkedIn. From there, you can work your magic.
Buy LinkedIn Direct Ads
LinkedIn's advertising program is great for sending prospects to your landing pages, company page, or LinkedIn group. Simply create a headline, some targeted copy, and a link that you want to send people to. From there you bid for appearances on LinkedIn and pay the social network for each time a person clicks on your ad. While we don't recommend basing your entire inbound marketing strategy on LinkedIn paid ads, they can be a great addition to most targeted marketing campaigns.
In person? Use LinkedIn Mobile
LinkedIn has a great multi-platform, mobile application that can be used to exchange contact information with people that you meet at trade shows, on the road, or even at routine business meetings. Using the official LinkedIn app that you downloaded from your device's app store, you can lightly bump phones with someone else who is using the app and instantly exchange contact information. It really couldn't be any easier.
Do it yourself.
LinkedIn is an essential tool for any effective B2B marketer today. By engaging with your target personas on LinkedIn, you'll establish yourself as an industry thought-leader and build a trusting relationship with your leads. With these relationships in place, you'll find that generating leads and closing sales will become a natural extension of your regular interactions.
How are you going to get started on LinkedIn today?
{{cta('24f54006-b74b-4689-b8e6-c3380ef56ab8′)}}