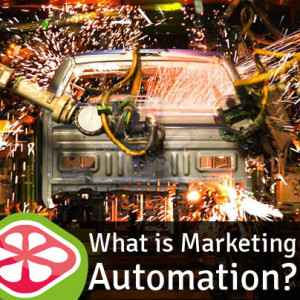 Online marketing can be hard. In fact, it can often seem like you are trying to sell your product on the floor of the New York stock exchange.
Sure, you're sharing your story—but can anyone really hear you?
It takes a lot of hard work to make your presence known online, and it can take even more effort to sell your audience to the point that they are ready to become a customer.
It's important that you put systems in place, not simply to get the phone ringing, but to save your sales team valuable time by engaging and qualifying leads before they make their first call.
Marketing automation is at the core of the Inbound Marketing methodology. It enables any business to utilize valuable content and create targeted marketing campaigns that automatically draw leads through a specialized sales funnel, and it all happens before the sales team even picks up the phone.
Laying the Marketing Automation Groundwork
Whenever we start collaborating with a company, we always begin by developing target "personas," or the types of people who we agree are the best and most qualified people to make a purchase. These people may differ in age, work in different industries, and hold different job titles, but they are all in a position to make the decision that counts.
These are the people who are targeted in an effective marketing automation campaign.
Once we have a clear understanding of the target personas, we continue to focus on their pain points; that is to say, the things that they most struggle with and for which we can best offer a solution.
These solutions come in the form of content offers, and are given out for free in exchange for basic contact information. This broad, valuable content — which is designed to draw leads into a strategic sales funnel — is referred to as "Top of the Funnel" content. Once somebody opts-in, they are dropped into an automated sales funnel.
How Marketing Automation Works
When a person opts-in to download content, CRM and marketing automation platforms are pre-configured to immediately analyze the lead data. With the target personas in mind, the lead is then dropped into a specific campaign based on a number of criteria — including (but not limited to) industry, company size, job title, or any other data that can be best used to segment leads.
These campaigns are highly customized for each persona, and they target the specific pain points that are most relevant to them and to their business. In the planning stages, we work not only to develop relevant content that is used to address these pain points, but also to determine a strategic timeline that will engage valuable leads while being sure not to annoy them.
As the campaign is taking place, we are sure to monitor specific levels of engagement. From the dashboard, one can monitor not only which emails have been sent to the lead, but also which ones he or she has opened, clicked or for which offers a form has been submitted.
With this information readily available to your sales team, it couldn't be easier to qualify leads and pick up the phone to make a connect call.
How Marketing Automation Can Benefit Your Business
By pre-qualifying your leads, marketing automation can reduce your overall cost-per-lead (CPL) and empower your sales team to work towards establishing a trusted advisor status during the sales process. Your sales people will no longer be bogged down by dreaded cold calls, but instead will pick up the phone only for leads that have been pre-qualified in the automated sales workflow. Marketing and sales seamlessly work together to generate, qualify, and sell.
It's a beautiful thing.
By creating and sharing valuable content, your company establishes itself as a thought-leader in your industry. Rather than being seen as sales people, your team will be able to establish themselves as trusted advisors in the eyes of your leads — all while using relevant content and lead intelligence data to relate to and connect on a personal level. The process of making a sale suddenly becomes a simple and mutually beneficial conversation centered around what the client needs.
Isn't that what matters the most after all?