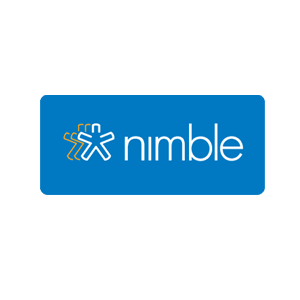 The power of conversation is amazing. Conversation is essential for relationships, and they're key to driving business. Today with mobile email and social media apps on our iPhones, we have more tools to facilitate conversation than ever before.
Using inbound marketing, we also have the opportunity to start more conversations by exchanging value-adding content for a prospect's contact information.
The challenge now is staying on top of these conversations.
It takes a social relationship manager to bring together the information collected from new relationships and the conversations that will take place to build the relationship.
Enter Richard from Nimble.
A few weeks ago, I retweeted a blog post with an infographic about CRMs. After sending the tweet, I simply went on with my day, forgetting that I had even shared the resource. A little while later I noticed a Chime notification saying that I had been mentioned on Twitter. This conversation ensued:
@andrewjdymski Thanks for the ReTweet Andrew

— Richard Young (@Richard_Y) April 8, 2013
@andrewjdymski We're always looking for good partners. Interested?

— Richard Young (@Richard_Y) April 8, 2013
I had been searching out the right CRM pairing for our Hubspot clients for months. Salesforce left my head spinning after just looking to sign up for their partner program. Other programs were priced too high for our consideration. We were looking for something simple and engaging that would be easy for our clients and ourselves to integrate into our existing workflows.
What struck me about my conversation with Richard was that I could see the Nimble platform working on me. If it worked on me, why couldn't it work for our clients and prospects as well?
Inside Nimble.
Inside the Nimble portal is a hub of communication and collaboration. Check out the clean and easy to navigate interface. It is super easy to use the social relationship manager to read up on the details of a contact and see the history of communication across all your platforms.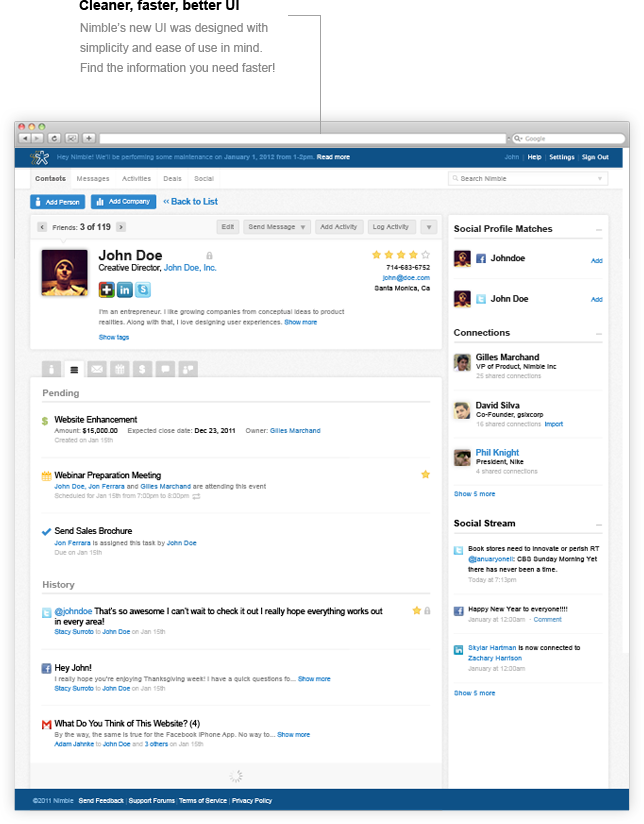 Nimble and Hubspot Get Along Nicely
Not only does Nimble import all of your contacts from Hubspot, but it also creates a special page for with all of the important lead information. Having this information at your finger tips is very helpful during conversations with prospects.
Take a Test Drive
It's worth the time to take Nimble for a spin. They offer a great two week trial of their business level application. If you click the link below, you will be taken to a landing page where you can setup for account. It is helpful to link all of your accounts and import all of your contacts when you're setting up the system.
{{cta('15155583-79c6-44db-9fb1-4667c0bb9c24')}}