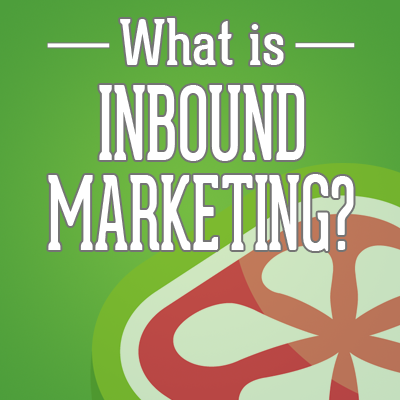 There's a ton of buzz about inbound marketing, but many people struggle to explain what is inbound marketing and why does it matter?
Have you ever noticed the extent to which companies must go to in order to break through the clutter and gain attention? We have filters set up to get rid of the messages we don't want to receive. We use the DVR to fly through commercials, caller ID screens out unwanted telemarketers, and we trust Google, Yelp, Foursquare, and Facebook over the yellow pages.
These shifts in consumer behavior make it harder for traditional outbound marketing efforts to get a person's attention.
A friend of mine recently shared a story that illustrated this point. He was working on his roof when his son came running around the house with an overnight delivery that had just arrived. Not expecting a delivery, my friend stopped working and climbed down off the roof. When he opened the envelope, he was stunned. It was not an important legal document or a surprise package; it was a direct mail piece offering a low rate on a mortgage refinance.
Think of the extent to which that bank had to interrupt my friend in order for him to read their offer. Comparing their returns with the cost of that investment proves a pervasive trend – traditional marketing is consistently becoming more expensive and less effective.
Traditional outbound marketing efforts like cold calls, direct mailer campaigns, yellow page ads, billboards, and TV spots try to steal the consumer's attention by interrupting. Instead of enjoying the TV show you have been waiting for, you're stuck watching some sports star talking about their favorite sandwich.
They're interrupting an audience that is focused on something totally different. Wouldn't it be nice if we could target consumers when they're focused and engaged?
Inbound Marketing Focuses on "Yes, Please"
Inbound marketing turns interruption marketing on its head and capitalizes on new shifts in consumer behavior by providing value-adding content that solves people's problems. Companies that use inbound marketing well position themselves to be found in search engines and on social media channels.
Inbound marketing focuses on driving the right kind of traffic to your site. This is accomplished by using targeted blog post, interactions on social media channels, and implementing search engine optimization strategies. These visitors are drawn to your site by topics that interest them; there's no need for interruption!
Once visitors consume your value-adding content, they are going to crave more. Using the inbound marketing methodology, blog posts are optimized to drive action toward compelling content offers. These content offers are in-depth resources that will educate your prospects. Content marketing offers can be eBooks, industry reports, webinars, exclusive interviews, white papers, case studies, and more. These offers are hosted on a landing page that is optimized for one purpose: to have the prospect enter their information and download the content offer.
When a prospect downloads a piece of content, they have indicated their interest. They have said "Yes, please share information with me!" They can now be placed in a lead nurturing sequence that will continue to walk them through your sales funnel. This process produces sales-ready leads with minimal individual attention.
Why This Works
Inbound marketing works because everything starts with the targeted persona in mind. Developing a content and keyword strategy around the pain felt by your target audience means that your site traffic is relevant. You will bring qualified visitors who are interested in the content that you are offering.
When you generate qualified website traffic, visitors convert to leads at a much higher rate compared to unqualified traffic that is generated by a website that is not optimized.
Nuts and Bolts: Inbound Marketing Services that make it Happen
The inbound marketing methodology is made up of a large number of moving parts with a high degree of integration. Each component relies on the others to maximize the return on investment (ROI). True success is only achieved when all of the elements are joined together by a unified strategy.
Developing a winning marketing strategy begins by identifying your target market. Within your target market, it is important to establish specific marketing personas. These personas represent the type of individual that you would like to reach with your content. Success of your campaign is determined by setting attainable goals. You should map out your traffic-to-lead and lead-to-customer ratios. These numbers help determine the success of your campaign.
Develop a list of core keywords to target on your website based on winability and relevance. Your website should be optimized for these keywords, using both on-page and off-page search engine optimization techniques. Create a list of long-tail keywords to target with blog posts.
Keyword phrases come in two forms: pain-based and solution-based. Think back to the persona that you are targeting and place yourself in their shoes. What phrases are they going to enter into the Google search bar in an attempt to find a solution to their problem?
Thought leadership is displayed when a business publishes a blog. By providing solutions, your business positions itself as a resource for industry-leading content. Blog posts become ammunition for social media platforms and sharing. Blogs also provide opportunities to call readers to action and drive them to download more content.
Blogging plays a critical role in search engine optimization (SEO). Each new post published is a new indexed page for search engines. The higher number of pages a website has focused on a core set of keywords, the more clout it has in Google's eyes. Blog posts also attract inbound links from industry professionals, thought leaders, and social media networks.
Utilizing an editorial calendar and implementing a blogging policy and process checklist are key elements to long-term blogging success within an organization.
A blog can attract qualified traffic to a website, but it takes a kick-butt landing page to convert that traffic into something useful: a lead.
With every new content marketing offer that is created, it needs to be hosted on a custom landing page. Landing pages are successful when they communicate value to the reader and prompt them to take a specific action.
Social channels are powerful outposts to share blog articles, content marketing offers, listen to conversations within your industry, and to connect with other thought leaders. They also provide an unbiased and unfiltered platform to communicate directly with targeted users.
Optimizing an inbound marketing sales funnel starts by attracting qualified traffic to the website. Using an all-inclusive on-page and off-page SEO strategy built with an emphasis on fresh content, you can specifically target the users that will prove to be most valuable.
With every update that Google makes to their algorithm, they place a greater focus on the importance of fresh content. To consistently show up on the first page of Google, it is important to blog regularly around a set of predefined keywords.
Streamline your marketing efforts by using an all-in-one marketing automation software like HubSpot. Hubspot maximizes the efficiency of your team members by automating lead nurturing campaigns. It allows you to create customized offers based on an individual lead's behavior and interest.
Trade your best content in exchange for a prospect's contact information. These content offers are in-depth resources that will help educate your prospect. Content marketing offers can be eBooks, industry reports, webinars, exclusive interviews, white papers, case studies, and more.
It is important to provide your visitors with clear calls-to-action (CTA's) throughout your website. These CTA's must provide customized opportunities for visitors based on their position in the sales funnel. If a person is a first-time visitor to your website, the likelihood that they are sales-ready may be slim. It is important to understand and walk users through a strategic sales process.
Equip your sales force with information that they can leverage during the sales process by providing them with detailed timelines of a lead's interaction with your website. This gives a salesperson an overview of their unique areas of interest. Lead grades help the sales team remain efficient and ensures that they contact the most qualified leads.
As you continue to publish content offers, it is important to reengage leads with these offers. Email marketing is a good way to share your fresh content with leads who have downloaded content from you in the past. Seeing your name in their inbox again may be the subtle reminder they needed to take another look at your website or download another piece of content.
Continual improvement over time requires a solid understanding of past performance. Marketing analytics allow you to analyze your inbound marketing funnel to determine which steps worked well and which steps need refinement.
Analytics also give you the ability to measure the return on investment (ROI) of your inbound marketing campaign. Track ROI by following the progress of a prospect as they become a lead, a qualified lead, and finally a client. Inside Hubspot, you can easily connect your CRM, like Salesforce, to effectively track the progress and confirm a sale when it takes place.
Summary
The Inbound Marketing Methodology brings together a large number of individual online marketing techniques and organizes them into a cohesive marketing strategy. The overall goal is for searching customers to find your business offering value-based solutions to their problems. Stop interrupting people with outdated outbound marketing messages and start attracting qualified traffic with Inbound Marketing today!