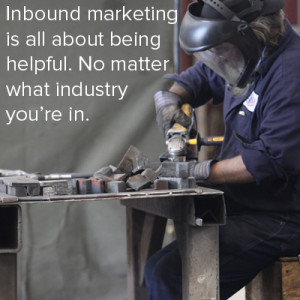 Creating a winning B2B marketing strategy in the industrial space today requires a strong online presence. The center of your online presence is your website. It is the central hub for all of your helpful content.
Inbound marketing is all about being helpful. No matter what industry you're in. That means that even industrial companies in dirty, dusty, and steel-toed industries like manufacturing, mining, oil & gas production, and heavy construction need to start creating helpful content.
Here are three steps to help you create a B2B marketing strategy in place that delivers results.
Identify Personas
The first step toward creating helpful content is to clearly understand who you're speaking to. You can do this by creating buyer personas. A buyer persona is a picture of your ideal buyer.
Chances are that your customers come in different shapes and sizes. Knowing this, you will need to taylor your content to speak to each of these people.
A CEO in the industrial space is going to have have different expectations than an engineer in the project management space. While both are target customers, your message and language needs to be different.
If you have never created buyer personas for your business, you can download and fill out our free template. This PowerPoint file will help you to clearly identify the type of person you're trying to attract to your content hub.
Fuel Content Creation
After outlining 3-4 of your target personas, you want to begin to create a list of core topics around each persona that you can use to fuel content creation. These are lists of pains, lists of questions, lists of their biggest challenges.
As you're building this list, contact your current customers and speak with them directly. Ask them what the top three things are that keep them up at night. Then sit back and listen. Keep asking probing them and keep them talking.
After you have identified a whole list of pains, look for overlap in responses. Identify the issues that are coming up in multiple responses. These are areas of pain that are looking for solution and it is your opportunity to help them out.
Each pain point and commonly asked question is an opportunity to create a highly relevant piece of content that meets the needs that you're customers are facing on a daily basis.
Start Creating
These lists of questions and pains are the fuel to your content creation. Filter through the results and find the most common issues. Answer these questions first on your blog.
If you don't know all of the answers, find people in your organization who do. Interview them to extract their expertise and reformat their responses as blog posts. After you have a few together, you can turn them into a collection for an eBook. Place the eBook on a landing page, behind a form, and start using your content to generate leads.
These three steps are a basic overview of an inbound marketing strategy. If you would like to dig deeper, check out The B2B Marketing Checklist below. This resource will give you step-by-step instructions and help you establish a strategy that can deliver success.