Attracting qualified traffic to a website is a lot of work. It involves a keyword strategy, pages optimized for search engines, a smart social media game plan, and more. If your goal is to create a relationship with visitors that could lead to a sale, then website visitors need to convert into leads. One good way to add email opt-in forms to a WordPress website is with a premium plugin called OptinSkin from ViperChill. In this OptinSkin review, I'll break down the way it can help you convert more traffic into leads.
Super Easy to Set Up
There is no code required to place and design your opt-in form! The OptinSkin plugin is almost ready to start converting traffic right out of the box. All that you need to add is the naked form code from any of the supported email managers. There are 18 designs ready to be branded to your website with the option to add images for eBook content and hex colors to match the feel of your site.
Place it Anywhere on your Website
Context is important in a web experience. OptinSkin allows you to decide what forms appear on what pages. This flexibility allows you to customize forms based on blogging categories, so you can customize the offer to fit the context of the blog article that the visitor just finished reading. With shortcodes, it is easy to add forms to your different pages, such as your about page.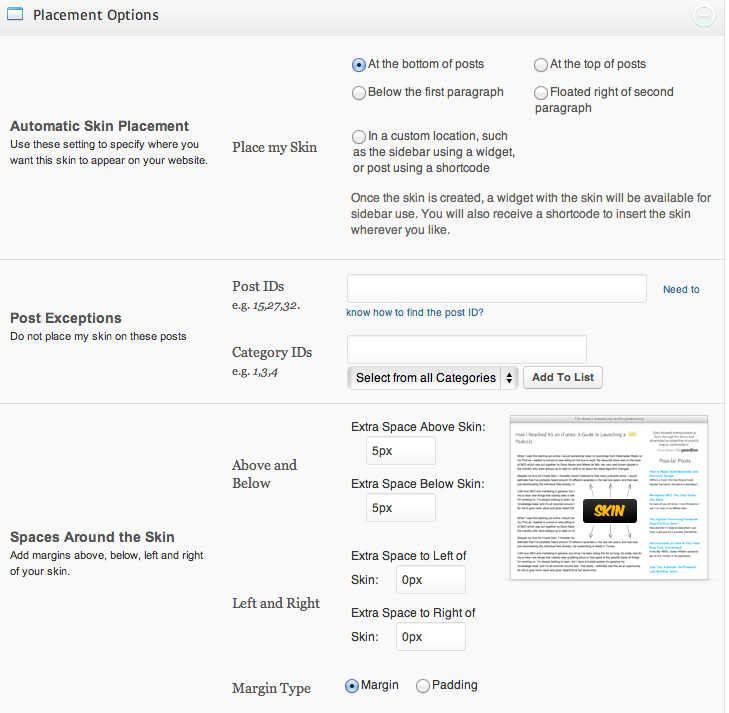 Calls to Action + Social Sharing
OptinSkin brings together email opt-in with social sharing on several of their form options. These forms are great to drop at the bottom of blog posts. If you're creating valuable content that helps to solve problems that readers are feeling, they are going to want to stay thank you by sharing the content with others. They may also want to get regular updates on your blog content. They can do both right from one place.

Split Testing
We all are looking for higher conversion rates. OptinSkin lets you split test opt-in forms to find out which combination is converting at the best rate.

Click here to learn more about OptinSkin and try it out for yourself. They have a 60-day money-back guarantee, so if you don't like it, just send it back! We believe in OptinSkin as a resource so we're affiliate partners. This just means that if you happen to click through and buy a copy for yourself, we will get a kickback.
Converting traffic is only one element of online marketing. For a website to help bring leads into a business, it needs to be built on a solid strategy. Check out our free checklist by clicking the image below. Once inside you can work through a checklist that will set you up for success and real online marketing ROI.